#AToastToRogerMoore – 9:00pm ET – Moonraker – #Bond_age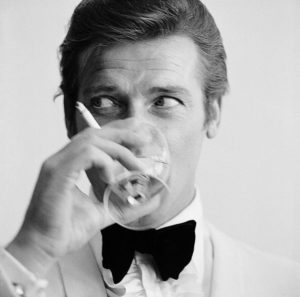 I may have started #Bond_age_, but no man was more important to #Bond_age_ than Roger Moore. He may not have known we existed (maybe he did — one can dream), but he fueled this project from the very earliest weeks of its inception. Today, I'm just one of a million voices paying tribute to Sir Roger Moore (or Party Moore as he was referred to around the #Bond_age_ HQ water cooler). And like many of you, I'm heartbroken to learn that great Roger Moore has passed away at the age of 89 in Switzerland after a short battle with cancer.
When I first decided to undertake this project in 2012, I'd just intended to write a weekly blog entry on a small literary magazine website about the James Bond movies. A short time into the planning, I considered the benefits of live tweeting the movies along with the essays. I thought the live tweets would help direct my writing and offer some ideas about the direction of those words. The first live tweets for Dr. No through Goldfinger consisted of me live tweeting Bond facts to one, maybe two other friends of the project. After Goldfinger I wanted to quit the live tweets. I felt like I'd thrown a party and nobody came.
After Goldfinger, I took a holiday break to regroup and recalibrate. I came to a decision. I would continue the live tweets at least through Live and Let Die. If a Roger Moore Bond film couldn't energize a live tweet, there just wasn't any reason to do it. I didn't have to wait that long, however. Starting with Thunderball, our live tweet traffic escalated significantly. And this was good. But it wasn't until the The Spy Who Loved Me and Moonraker live tweets that #Bond_age_ found its identity through a regular core of fun-loving and snark-filled patrons that recognized the folly but still embraced the joy Roger Moore brought to our screens — not entirely unlike Roger himself — sometimes self-deprecating, always keenly aware of the importance of being an entertainer.
And here we are, almost five years later, still live tweeting James Bond.
By any standard he was a fine actor, but a greater star — oozing charm and charisma from every one of his perfect pores. His appeal, however, transcended James Bond or Simon Templar. Roger Moore welcomed the affection of his fans, never once showing any regret about the time he spent in the tuxedo. He made time for everyone, making regular signing appearances to raise money for his humanitarian efforts, meeting fans, remaining accessible and vibrant through his 80's, a regular fixture on Twitter.
He embraced the good with the bad and never publicly spoke a negative word about anyone (some veiled ones, perhaps — just read his brilliant autobiographies). Everyone loved Roger Moore because Roger Moore loved everyone. When eulogizing Roger Moore, one cannot overlook his many humanitarian efforts for organizations like UNICEF, Children in Need, Epilepsy Action, and dozens of others too numerous to name here.
But we're gathered here together as fans, united by our love for a shining personality in a bespoke suit… or an Amazonian safari outfit. Today we mourn, but we also celebrate the man. The quick wit, the hinged eyebrow, the kind heart, the true British gentleman.
Tonight I will raise a glass of bourbon in honor of Roger Moore's specific and unique contribution to James Bond. To honor a man that has brought all of us so much joy. I hope you will join me and post a picture of your toast on social media. Tag it with #AToastToRogerMoore. 
Tomorrow's #Bond_age_ birthday salute to Pierce Brosnan has been postponed. We're planning some Roger Moore programming instead.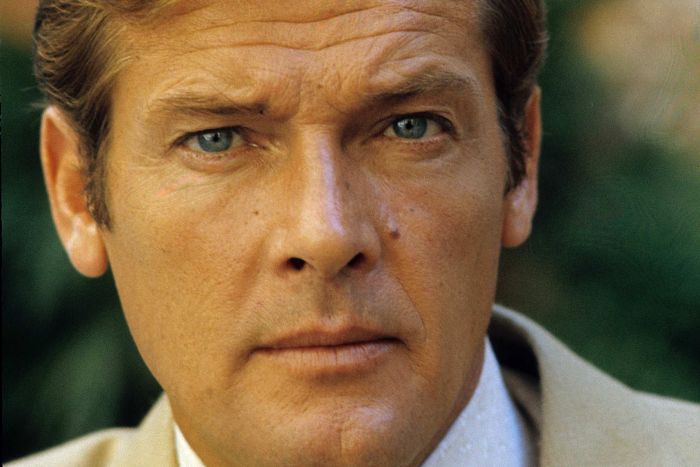 Last week, our dearly beloved Pierce Brosnan turned 64. Because #Bond_age_ had a previously scheduled date with Deadlier Than the Male, I made the executive decision to postpone the official birthday festivities until this week.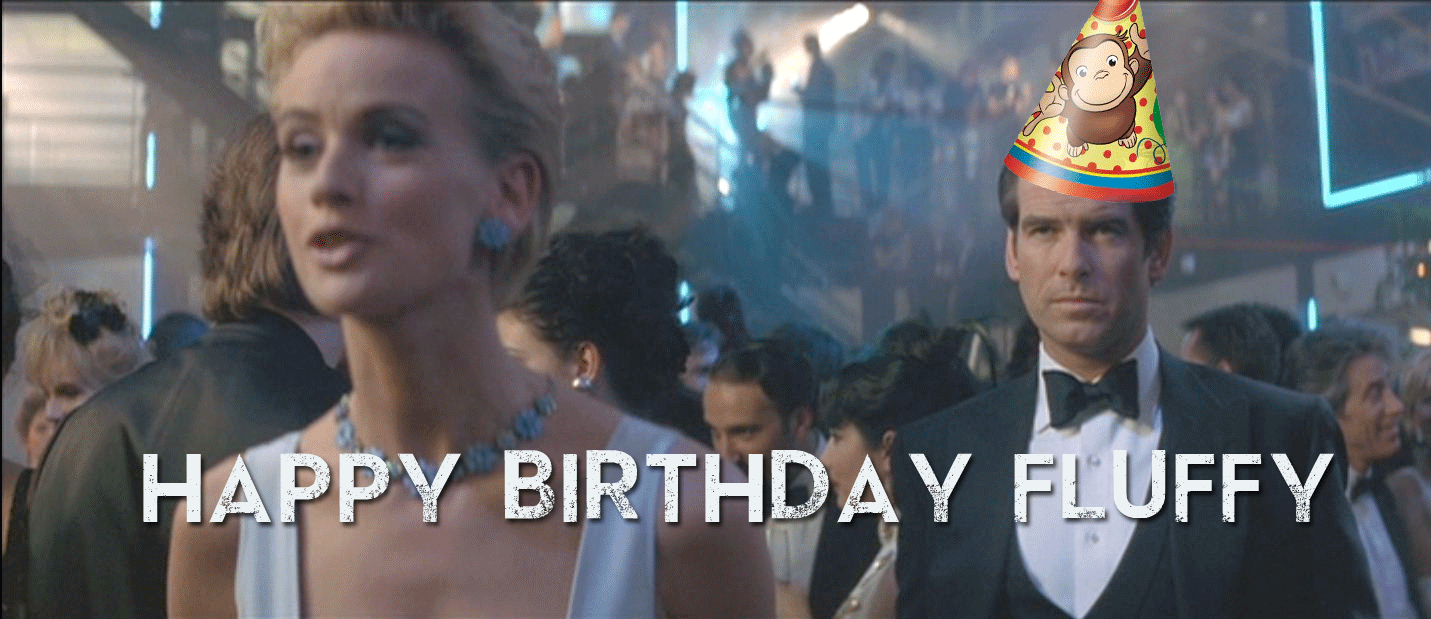 With so many excellent Fluffy films from which to choose, the choice of film weighed heavily on my mind. Do we go with a lesser Fluffy film? Or a more recognized success? My first choice– The Matador (2005) remains a film that deserves broader appreciation. Brosnan deliberately plays against the Bond persona as a bedraggled and unpredictable contract killer that befriends a put-upon schlep (Greg Kinnear). The outcome is a low-key rambling character-driven comedy. But would it make a good live tweet? Comedies are often hard sells, especially in films that essentially make the wise-cracks for us.
So… now what?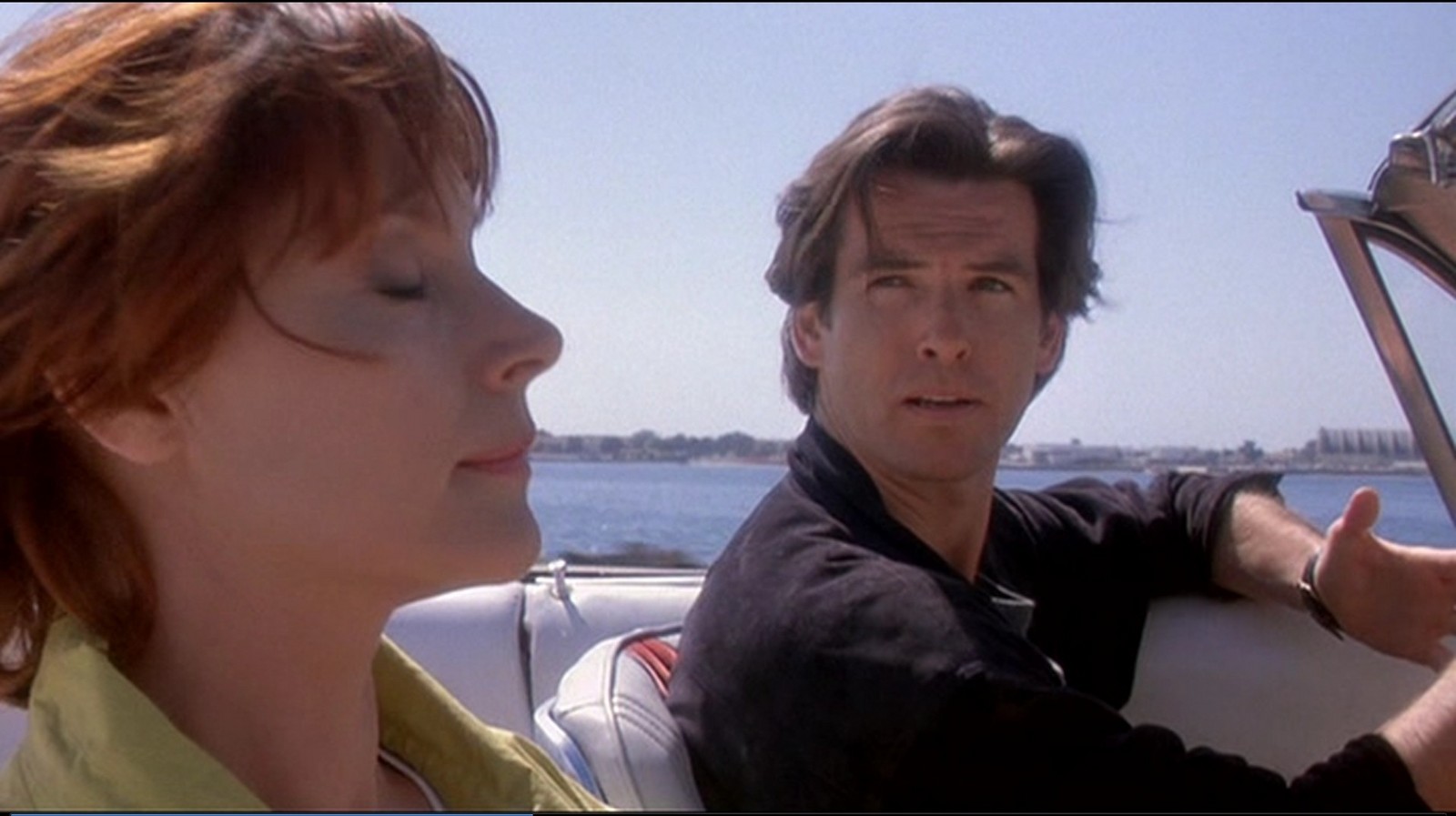 So I moved on. What else did I have in my bag of Fluffy tricks? I was tempted by The Mirror Crack'd, an Agatha Christie film featuring a very youthful Brosnan in an uncredited role. Another time, perhaps. A bit part wasn't sufficient enough celebration. I still want to do After the Sunset, but that's really just not reflective of the mood I'm in.
I went back to Taffin. How could we recreat Taffin? I recalled I picked up the HBO film The Heist on DVD for just such an occasion. Fluffy plays Neil Skinner, an ex-con framed by his partner Ebbett (Tom Skerritt). His partner now runs security at a race track and in order to seek his revenge, Neil's going to steal the track's daily take right out from under his old partner's nose. Before you go looking for the @007hertzrumble seal of approval, I can't offer any. Because I haven't seen it! We're going in blind here people! For Fluffy!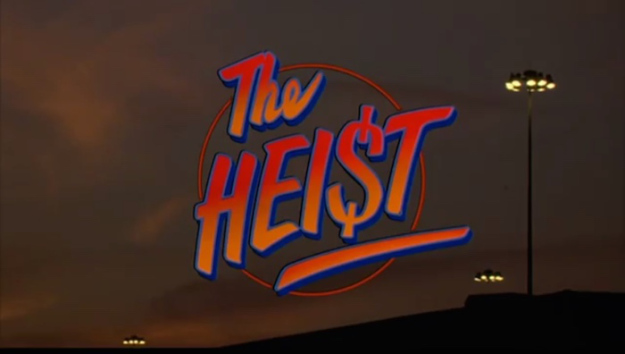 Join #Bond_age_ on Wednesday, May 24th for the THE HEIST live tweet, starring Pierce Brosnan, Tom Skerritt, Wendy Hughes and a whole bunch of "those guys" you know from somewhere else. Show starts at 9pm ET. Follow #Bond_age_ hashtag.