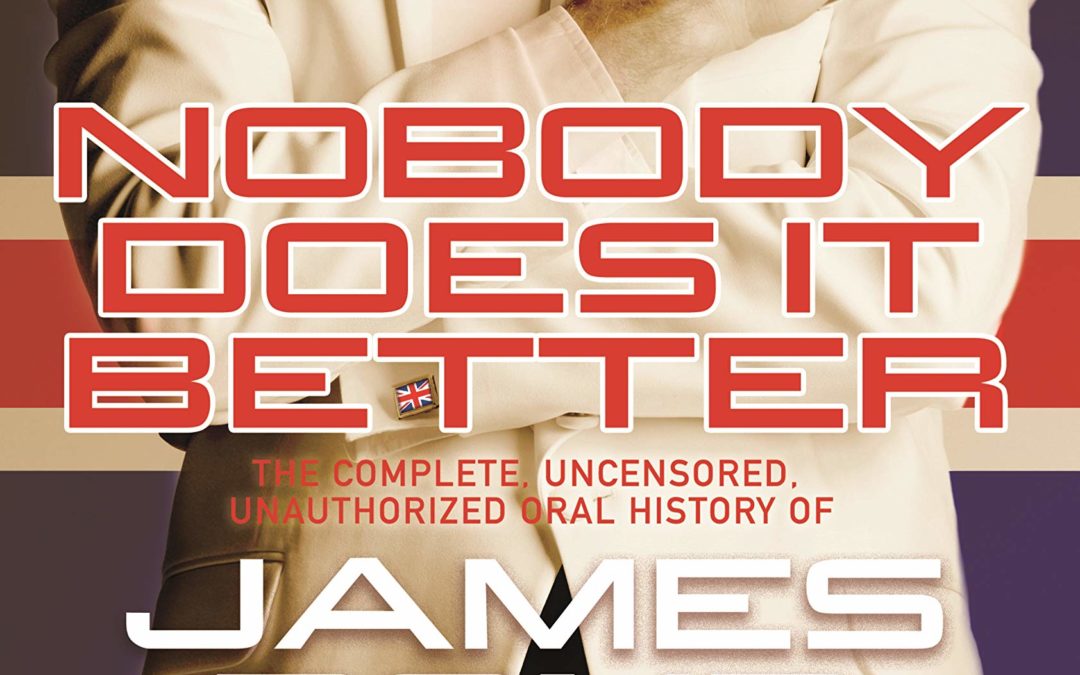 #Bond_age_ Book Review:
Nobody Does It Better: The Complete, Unauthorized Oral History of James Bond
by Mark A. Altman and Edward Gross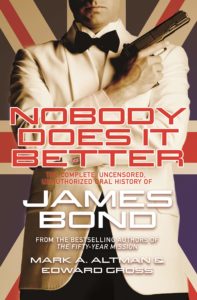 Having retold the oral history of Star Trek in The Fifty-Year Mission, authors Mark A. Altman and Edward Gross set their crosshairs on another target — the 58-year legacy of James Bond in Nobody Does It Better: The Complete, Uncensored, Unauthorized Oral History of James Bond. Bond fans devour 007 minutiae more greedily than the Cookie Monster devours that first box of Samoas after a cold Girl Scout-cookieless winter. The James Bond mythology takes on a life of its own, sometimes blending wish fulfillment and fantasy into the simple facts of the series' production. Outlandish stories are often disproven, but in the James Bond universe some of those tall tales turn out to be true.
In Nobody Does It Better, Altman and Gross haven't exactly provided an ideal reference for fact-checking (though I've earmarked a few dozen pages that clarify or disprove a few widely-held notions), but they've gifted us this immersive, eminently readable collection of stories, musings and first-hand production accounts from the men and women that made it all happen. Contemporary critics, filmmakers and James Bond obsessives also populate a portion of these 716 pages. While they offer a utilitarian, sometimes apologetic 21st century perspective. I'll always allow airtime to James Chapman — whose Licence to Thrill is one of my go-to Bond texts — and Phil Noble, but some of the other contributors felt superfluous. Not unwelcome, necessarily, just less meaty. As someone who trades in these didactic retrospectives in the Twatterverse, I was far more interested in the stories told by the talent that turned Ian Fleming's unlikable literary scoundrel into the world's most famous agent of espionage.
Terence Tells All
As a well-read consumer of the Bond histories, I relished the uncensored dishing captured in these excerpts. Director Terence Young (the Noël Coward of the Bond universe?) offered a wellspring of unfiltered conversation about Dr. No and From Russia with Love in particular. Take for example this passage where he praises and eviscerates producer Harry Saltzman in the same breath:
That pre-credit sequence in From Russia with Love was a very good sequence. It was Harry Saltzman's idea; he wanted to set the killing of James Bond in that training school. We had a lot of arguments about it, and eventually they were all in America and I shot it in the back lot at Pinewood… Harry had some very good ideas, I must say. Also, he had some of the worst ideas I've ever seen. If you've sense, you discard the bad ones, and if you're intelligent, you keep the good ones. But he was a terrific idea merchant. That was definitely one of his best.
Young also provided subtle (but not necessarily modest) insights into his filmmaking process and the limitations placed upon the Bond production in the early 1960's.
The only reason I used to get away with a lot of what I did was because I always used to try and make a laugh at the end of a violent scene. That was one of the traditions I set up, that you could be as violent as you like, provided at the end there was something like when he kills Grant on the train… Bond leans across and says, "I don't think you'll be needing this… old man," and he takes it. It got a laugh and it took care of the censor. The censor let it through on that strength. He'd be saying, "Oh, no; oh, no!" I was there when they were running it… He giggled and he laughed and he let us get away with it.
The Blofeld's in the Details
The authors also devote a number of pages to ephemera that might sit beyond the scope of an average Bond viewer such as the 1954 CBS Climax Mystery Theater episode of Casino Royale starring Barry Nelson, the Kevin McClory legal saga over Fleming's Thunderball and the on-again-off-again rights to SPECTRE, the 1967 Casino Royale spoof, McClory's production of Never Say Never Again (1983), and the MGM sale that stalled production between Licence to Kill (1989) and GoldenEye (1995). Sections like these are likely to be devoured with equal relish alongside the juicier concrete production tidbits.
If the book can be faulted for under-representing any particular area of the James Bond production machine, it's the undocumented production time between filming the movies themselves. For example, script development and actor selection sneak into the stories in fits and spurts but rarely receive individual focus. The media circus surrounding Daniel Craig's selection prior to Casino Royale (2006) gets a passing mention. Granted, much of this process took place behind closed doors and occurred before the 24/7 media blitz so catty quotations like Terence Young's might not have been exactly forthcoming — or they deemed this information to be wallpaper, useful but entirely unnecessary in holding up the foundation of the franchise.
Nobody Does It Better Final Thoughts
This exhaustive and carefully curated text gives the creative (and often unsung) heroes and heroines behind James Bond a voice in their definitive story. Nobody Does It Better pulls back the curtain on the history of EON Productions and serves as a welcome reminder that nothing about Ian Fleming's creation was pre-ordained. Talent, persistence and a lot of luck made James Bond. The authors' adoration for the material transmits through the width and breadth of this Ken Burns-like document to the greatest film franchise of all time.
Sample each section of Nobody Does It Better in conjunction with your latest James Bond rewatch or sit down with a martini (or six) and absorb everything all at once. Casual fans might be put off by the size of the book itself, but they'd be missing an in-depth snapshot of the movie business that's far more than just 007 fan service. Bond fans will definitely want to make (significant) room on their shelf for Nobody Does It Better.
.