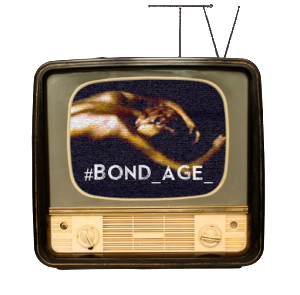 Hello again, everyone.
It's #Bond_age_TV time again, and I had planned to start Man from UNCLE season 4 this month with The Prince of Darkness Affair two-parter, but life has a way of disrupting plans.  Christopher Lee's passing hit us all so hard, we had to celebrate his life with The Man With the Golden Gun. It was, as always, enjoyable to watch Christopher Lee ooze charm and menace as Scaramanga. I wanted to use #Bond_age_TV to celebrate his legend as well, but the question remained how to do it. He never appeared in Man from UNCLE, so there was no episode I could turn to. The Prince of Darkness Affair would be somewhat fitting, but not what I wanted. I wanted the man himself. Luckily, plans were afoot which made my choice of episode easy.
With Season 4 being UNCLE's last, I've had to work on plans for what was to come after. My short list of replacement series really only consisted of one show: The Avengers. In terms of 60s spy cool, it has few equals. John Steed and Emma Peel are two of the quintessential 60s TV characters, and display a Britishness James Bond would envy. Indeed, The Avengers have arguably as much of a Bond pedigree as UNCLE does, if not more. The Avengers was a logical choice for #Bond_age_TV, and it feels right to move on to it after UNCLE. Christopher Lee appeared in The Avengers twice, his first appearance being in Never, Never Say Die, which aired on Mar. 31, 1967. So I'm pleased to announce that The Avengers will be making their #Bond_age_TV debut this week as the first episode of our livetweet.
The second episode of this week's livetweet remains Man from UNCLE season 4, but it too sets the tone for what comes after UNCLE on #Bond_age_TV. This week's episode is The Master's Touch Affair, which features another name familiar to Bond fans: Jack Lord. He plays Mandor, a high-up THRUSH traitor who is selling out his organization to UNCLE. I'd initially planned to show this episode after UNCLE season 4 concluded its #Bond_age_TV run because Lord is playing a huge part in my post-UNCLE plans. The year after The Master's Touch Affair, Lord began what is arguably the most successful of the 60s spy shows: Hawaii Five-0.  Though ostensibly a police show, Five-O had the spy genre covered as well, blending the two together into a TV juggernaut that paved the way for future Hawaii TV productions. I'm pleased to announce that, once UNCLE is done, Hawaii Five-0 will be taking the 10 pm livetweet slot, following The Avengers.
So this Wednesday, please join me as we celebrate the past and look to the future with a special Avengers/UNCLE livetweet event. It features Christopher Lee in Never, Never Say Die at 9 pm EST, and Jack Lord at 10 pm EST in The Master's Touch Affair. The hashtag for both shows will be #BondageTV.