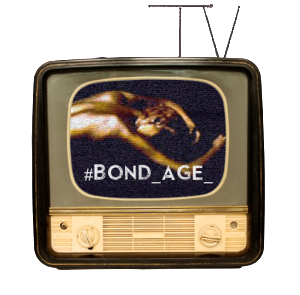 Hello again, everyone.
It's #Bond_age_TV time again, and we're back with the second to last #UNCLEtweet session ever. With the final season of UNCLE being as short as it was, selecting individual episodes to watch was a difficult task.  There were only 12 standalone episodes in season 4, and I was certainly not going to be able to cover all of them.  There were really only two I knew were going to be part of my plans. The first was The Master's Touch Affair, which I had intended to be the last episode of season 4 I used (naturally, it ended up as the first). The second was The Deadly Quest Affair, which features good old #Kolchak himself, Darren McGavin, as the villain. Anyone who reads this probably knows that I do a livetweet of Kolchak every Friday night, so livetweeting McGavin's only UNCLE appearance was a must for me, so it becomes the first episode coming this Wednesday. Illya is kidnapped, and Napoleon finds himself being hunted by a man they both thought dead. Can Napoleon survive in the urban wasteland Viktor Karmak (McGavin) has chosen as his hunting ground?
Our second episode for this Wednesday started out as just a random selection from the remaining episodes: The Gurnius Affair. A Nazi Scientist is freed from a German prison in a plot masterminded by THRUSH, and it's up to Illya and Napoleon to stop whatever they have planned. However, as I refreshed my knowledge about the episode, the more fitting it seems that it becomes the last standalone episode to be shown. It features Will Kuluva who, longtime #UNCLEtweet livetweeters will know, played Solo's boss in the original UNCLE pilot, when it was known as SOLO. Gurnius Affair also echoes the season 1 story The Double Affair, as Illya gets an evil twin, just as Napoleon did back in season 1. Finally, this episode also features Judy Carne, the Laugh-In star who unfortunately passed away earlier this month.
I hope, then, that you'll join me for this coming Wednesday's livetweet session, as we celebrate both some great performers, and a great TV show. It starts at 9pm EST.