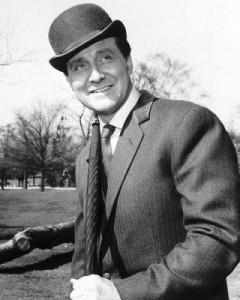 Hello again, everyone.
It has been a rather bittersweet week here at #Bond_age_TV HQ. This past Wednesday, the first appearance of The Avengers in our programming seemed to be a rousing success. It was a fitting tribute to both the show and guest star Christopher Lee. I looked forward to bringing it into the programming full time later this year. It came as a massive shock, then, to find out the next day that Patrick Macnee, the bedrock on which The Avengers was built, passed away at the age of 93. I cannot express how profoundly sad that made me.
Growing up as a fan of spy films and TV, I'd always fantasized about living that life.  But I never wanted to be James Bond; I wanted to be John Steed.  I wanted to wear bowler hats and wield an umbrella. I wanted to be funny and witty and charming, always ready with a quick bon mot. Now, 30-odd years later, I like to think I'm funny, but I'm pretty sure the rest will never happen. This is understandable, though, because no one could be as funny or as charming as Patrick Macnee. There was just something so fun and wonderful about watching him act, you couldn't help but wish you either were him or knew him. Knowing that such a wonderful talent has been lost to us is saddening, but we know that he left us a legacy to admire, and for that, we must be grateful.
To show our appreciation, this coming Wednesday #Bond_age_TV is celebrating the life and career of Patrick Macnee with a special Avengers double-shot livetweet event. @krissy_myers has graciously foregone her Prisoner livetweet  slot so we can livetweet two early Avengers episodes. First up at 9pm EST will be Death At Bargain Prices. Steed and Emma investigate the death of an agent which ties in to the strange goings-on in a department store. Then, at 10pm EST, we'll feature What The Butler Saw. There's a leak in the War Office, with three potential candidates to be investigated. Can Steed and Emma uncover the traitor? Find out by joining us this coming Wednesday, as #Bond_age_TV presents the Patrick Macnee Memorial Livetweet. Please use the hashtag #Bond_age_TV to join in. Also, if so inclined, feel free to use the hashtag #Macnee.  See you there.