Tenspeed and Brown Shoe: #Bond_age_TV / Goldblumathon Special
by James David Patrick
(Welcome Goldblumathonners! And make sure to visit the other spectacular Goldblum love fests.)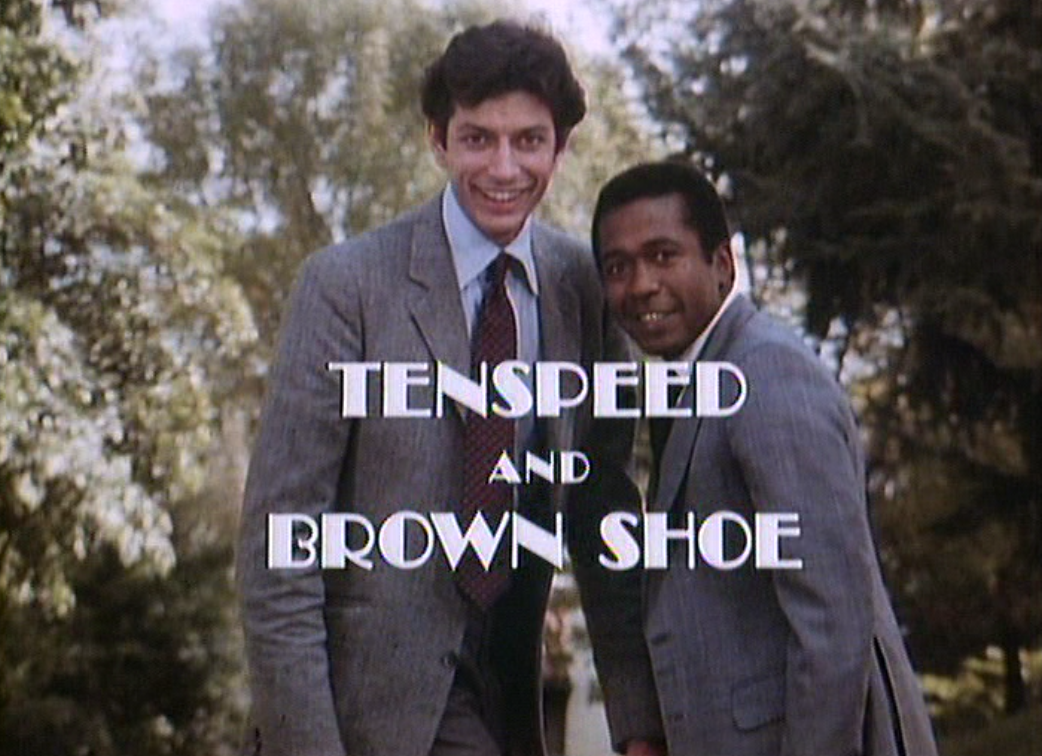 "It makes perfect sense… I mean not to me, but everything has a reason."

-Lionel Whitney (Jeff Goldblum)
Stephen J. Cannell's Tenspeed and Brown Shoe debuted January 27th, 1980 on ABC and was the first show produced by the prolific showrunner through his independent production company Stephen J. Cannell Productions (and the only one without the iconic graphic of the man typing away at his typewriter before flinging the page into the air).
First some background on Cannell before moving along to the unheralded Goldbluminess of Tenspeed.
Cannell sold his first script to the Robert Wagner spy show It Takes a Thief (a recent #Bond_age_TV live tweet) in 1969 before going on to write for Ironside and Columbo. Shortly thereafter he became story editor on Jack Webb's Adam-12 and his profile at Universal continued to skyrocket. Cannell created his first show in 1973, a crime/detective dramedy called Chase. Though the show survived only one 24-episode season, the show, like a slow-rolling earthquake, reverberated through TV land for years to come. Starring Dark Shadows' Michell Ryan, Chase concerned the titular character Chase Reddick, leader of a unique team within the LAPD that specialized in solving difficult cases via the use of their individual talents, mostly the piloting of alternate means of transportation such as helicopters, motorcycles, custom vans, muscle cars, etc. Sound familiar? Cannell recycled the same premise for The A-Team a decade later but turned the LAPD unit into a team of fugitives (imprisoned for a crime they didn't commit!) who solved unusual problems for ordinary people. After the cancellation of Chase, Cannell hooked up with famed showrunner Roy Huggins (Maverick, The Fugitive) to create The Rockford Files, which successfully updated the outline of Maverick (James Garner included) for contemporary crime. The show ran for six years until 1980.
Combine those first two efforts in an industrial, pop-culture blender and you've got most of the pulp and bits for the entire television filmography of Stephen J. Cannell – dramedies concerning eccentrics solving crimes and mysteries in somewhere under 45 minutes. Did I boil that down too far for the sake of brevity? Absolutely. The distillation: Stephen J. Cannell cranked out television hits continuously for 30 years. In addition to those previously mentioned add Hardcastle and McCormick, Riptide, 21 Jump Street, Silk Stalkings, and The Commish to the list. And it all kinda sorta began with this little remembered gem called Tenspeed and Brown Shoe starring Ben Vereen and, of course, Jeff Goldblum in his first starring television gig.
Does that well up all of the 1980's feels or is it just me? Swelling horns and adult contemporary funk. Freeze frames and 4th-wall-encroaching smiles through the camera. And if you weren't around in the 80's to fully appreciate the spectacle of 1980's television in the moment, I'm truly sorry for your loss. In the age of TV on DVD, however, you are not without hope.
After giving up his golden-boy status on the Universal TV lot to establish himself as an independent producer, Cannell developed Tenspeed and Brown Shoe as his first project. His team consisted of himself, his secretary, a producer from Universal, Juanita Bartlett (a writer on Rockford), and a few other nondescript tag-a-longs (perhaps non-creative — the book was oddly vague here). Crammed full of ideas that would carry on into other more successful Cannell productions, Tenspeed carries with it a joie de vivre, an unbridled enthusiasm for new beginnings and old pop-culture standards. So, naturally, #SixSeasonsAndAMovie right?
Backing into the Detective Gig
The two-part pilot finds Lionel Whitney, the button-down accountant stereotype and closeted hard-boiled Chandler-esque private detective (if only at heart), at a crossroads. He's being flung into an ill-conceived marriage of status and convenience. Yet the call of the flatfoot intervenes in the form of E.L. "Tenspeed" Turner, a con-man and hustler who inserts himself into Whitney's life in an ill-conceived getaway scheme. Newly paroled, E.L. poses as Lionel Whitney's driver and hides stolen Nazi diamonds in Whitney's limousine. As you'd imagine, the mob (also after the diamonds, wouldn't you know) pegs Lionel Whitney as an associate of E.L. Turner. Now the mob and the Nazis are after both men. Whitney showcases his various skills of privilege (black belt in karate — but only if self defense, collegiate-trained pistol marksmanship) and lust for the hard-boiled detective game, to navigate himself (and Turner) out of the farfetched mess. Lionel convinces E.L. to run a scam to get all the bad guys arrested (and clear Lionel's now besmirched name). Their success inspires Whitney to break his engagement, quit his job and fulfill his dream of becoming a hard-boiled detective… and suggests E.L. "Tenspeed" Turner his partner in order fulfill his parole requirements.
At face value, the pilot suggests that E.L. is indentured to Whitney (a la George and Jerry's indentured butler pilot on Seinfeld), Tenspeed and Brown Shoe dispenses with any suggestions of civil or social inequality. If anything it is E.L. Turner's cockeyed cons that save the duo more regularly than Whitney's wits. And as the show gains confidence, especially in the third episode ("Savage Says: There's No Free Lunch"), their relationship becomes that of two oddly shaped puzzle pieces that just fit barely together, each keeping the other's eccentricities in check long enough to solve a case.
The "Savage" Stories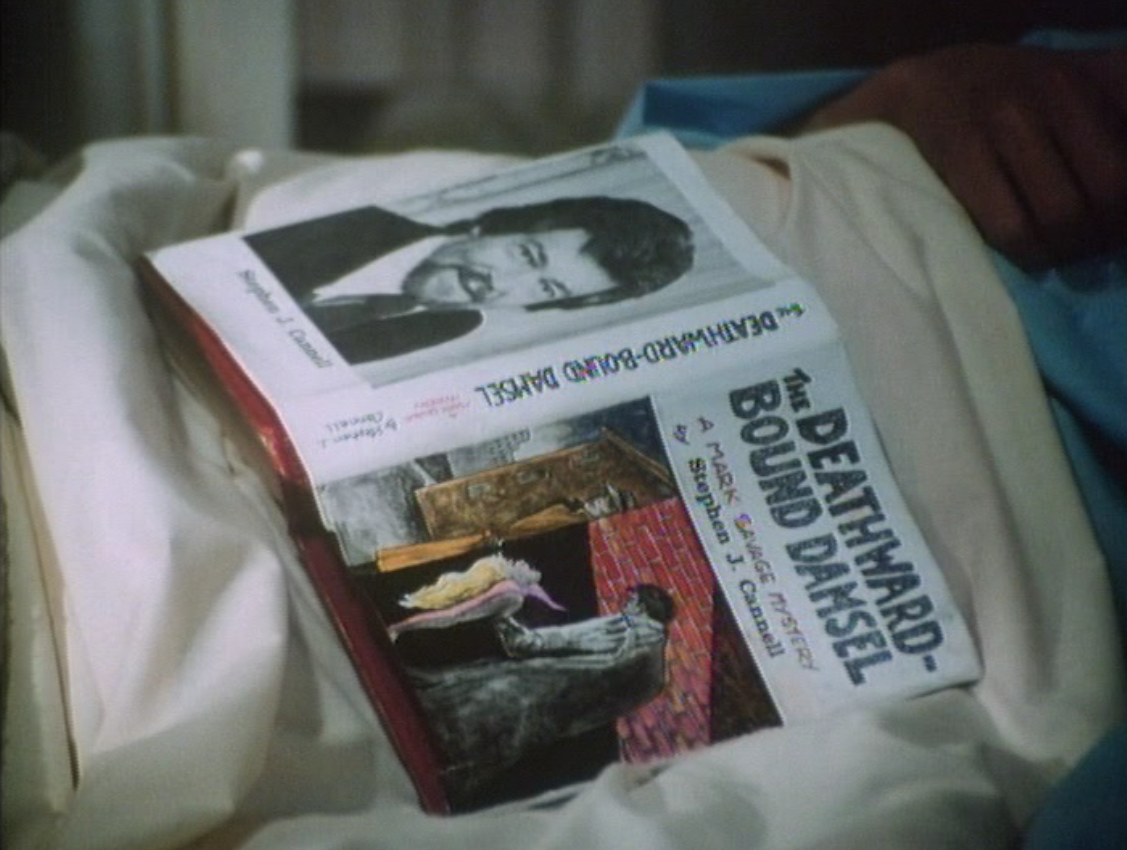 The usual Cannell trappings appear early and often in Tenspeed. Generic, villainous gangs in the form of the mob and the Nazis (later biker gangs, stock brokers, Russians, etc.). The noble everyman thrown into extraordinary situations. Easy humor mixed with chase-scenes and dramatic flourishes of sincere connection between the leads.
The episodes are framed and often informed by the "Mark Savage" novels read by Lionel Whitney. The shows open with a Goldblum voice-over reading especially purple detective prose from a different Mark Savage mystery, written, of course, by Stephen J. Cannell – his picture prominently featured on the back of the books themselves (though no such series exists, sadly). As Whitney modeled his inexperienced P.I. on the Mark Savage character, the prose often bled over into the show's narrative, influencing both characters.
Goldblum perfectly depicts the floundering detective searching his well-read brain for a particular Mark Savage passage that would advise him out of an especially hairy situation. His ticks (shall we say the Goldbluminess) suggest a private dick out of his element, but like the show itself, Lionel Whitney repeatedly proves himself to be more clever than he initially appears. The streetwise Turner keeps Whitney from bumbling into too many unfortunate scenarios with toughs, thugs, goons, or heavies (and helps bail him out with a quick scam when necessary). The detective can't however help but fall prey to a beautiful woman, no matter how many times he gets burned. We're never convinced of Whitney's proficiency in snooping or detecting… but like his karate skills, which appear untrained and clumsy (despite the supposed black belt), Goldblum's detective (like Goldblum himself) succeeds despite highly unconventional methods.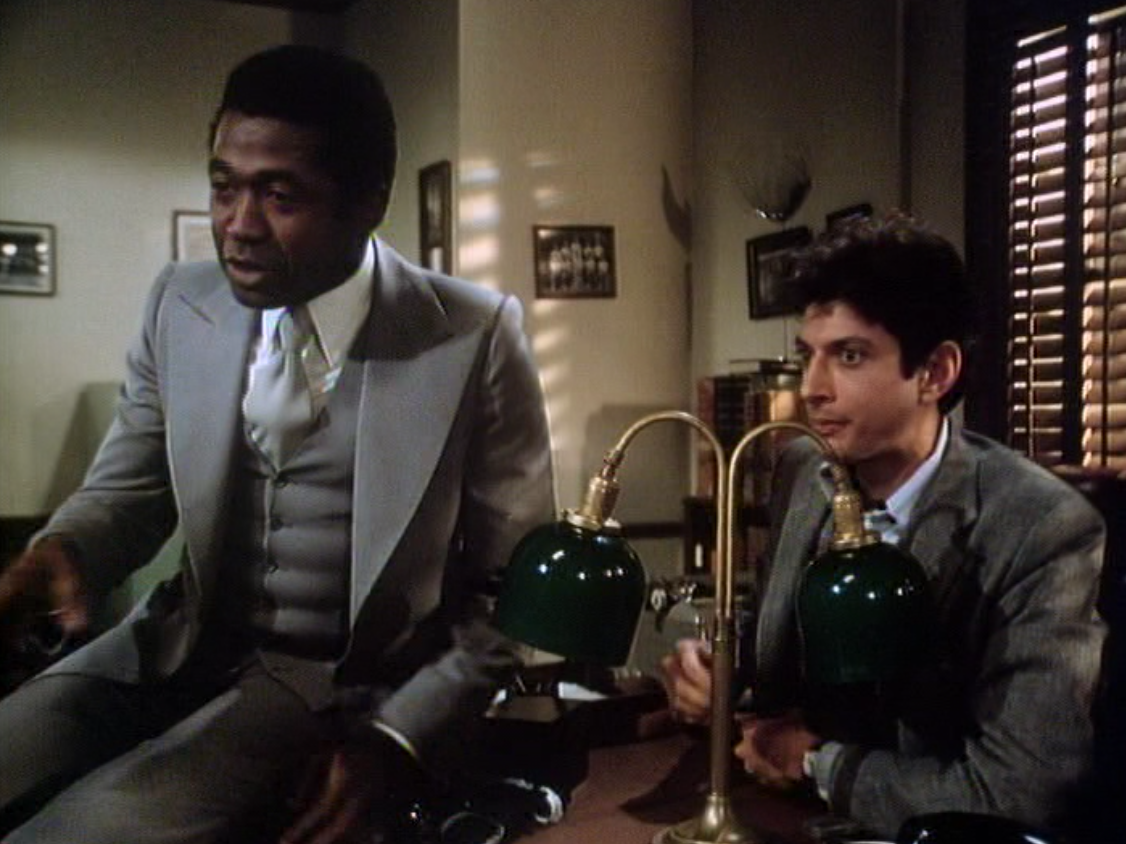 Tenspeed is both a spoof of the hard-boiled detective genre and a loving tribute. The two leads project easy, mismatched charisma. Vereen and Goldblum create intentionally incompatible characters and still manage to convince us that these two affable jokers from opposite sides of the social divide become trusting friends and colleagues in this ludicrous enterprise.
The end of Tenspeed, before it even began
ABC placed Tenspeed and Brown Shoe on Friday night's opposite CBS' ratings juggernaut Dallas. Cannell began to call this timeslot between 9:00pm and 10:00pm on Friday "the Steve Cannell memorial time period" because so many of his shows failed in the shadow of Dallas and Falcon Crest. Unfortunately Tenspeed was one of these failures. Despite excellent early ratings and an Emmy for writing on the pilot episode ABC cancelled the show after only 14 episodes, resulting in an $800,00 loss for Cannell's newly-minted production company. Could the show have survived outside the shadow of Dallas? Great shows fail every year because of network mishandling and poor marketing. This just seems to be another one of those unfortunates.
Failed but not forgotten, the premise of Tenspeed and Brown Shoe lived on in the lesser (but far more successful) Hardcastle and McCormick. Ben Vereen's character E.L. Turner also reappeared in another short-lived Cannell creation J.J. Starbuck.
Is it then pure luck that the home video gods decided to grace us with Tenspeed and Brown Shoe on DVD? Perhaps… but I choose to believe that it's all about the Goldblum. Keep in mind, however, that the DVD does not contain the pilot episode due to some rights issue with CBS. It is however, available on YouTube.
Buy Tenspeed and Brown Shoe
.
….but first watch the 2-part pilot episode here: