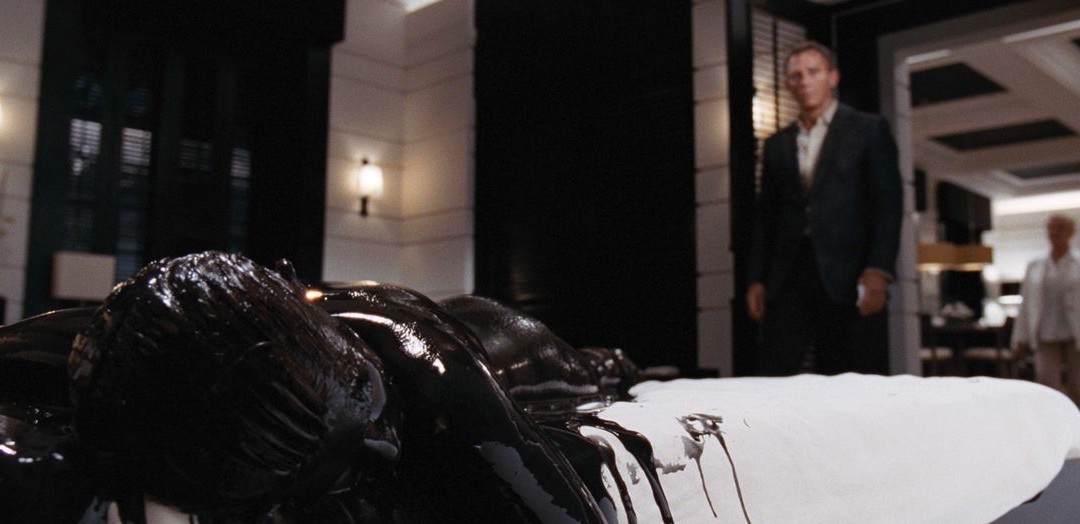 This essay on Quantum of Solace is the 22nd essay in a 24-part series about the James Bond cinemas. I encourage everyone to comment and join in on an extended conversation about not only the films themselves, but cinematic trends, political and other external influences on the series' tone and direction.

Quantum of Solace, a Study in Mehssimism
by James David Patrick
"On Quantum, we were fucked."

-Daniel Craig
Any conversation about Quantum of Solace must return to the WGA strike. It's not just that the strike left production with a script found lacking – it's that there wasn't a script so much as a bare-bones outline. The "script" for Quantum of Solace has become such a scapegoat in the supposed failure of the film that its ribald villainy overshadows the film's actual villain, Dominic Green (Mathieu Amalric). So what happened with that screenplay?
Let's start with what we know.
1. At least four screenwriters had a hand in the Quantum cookie jar: Neal Purvis, Robert Wade, Paul Haggis, and Joshua Zetumer.
2. Production scrapped another outline developed by Paul Haggis when Foster signed on, causing a last-minute rush to develop a new screenplay. But I've also read that Michael G. Wilson and Barbara Broccoli nixed the Haggis concept. If that were the case one would assume the story wouldn't have been abandoned and rewritten at the 11th hour.
3. Zetumer arrived on the set during production to do polishes immediately following the resolution of the Writer's Guild strike but does not own a credit on the film.
4. Their experience on Quantum caused 5-time Bond scribes Purvis and Wade to state that the film would be their last Bond film, but Purvis and Wade haven't to my knowledge discussed publicly what happened. Craig and Forster don't acknowledge them in the process. If you read the interviews around the release of Quantum of Solace, you'd never know they were involved, if not for the credits. They talk only about Zetumer and Haggis.
5. In more recent interviews (during Skyfall pre-release press), Craig and Forster have said that they developed the final concept on set during filming based on a second narrative outlined by Haggis and turned over hours before the strike. This is a shift from their statements in 2008 that claimed the script was "fine," prior to the start of filming of Quantum.
6. Nobody seems to agree publicly about how the Quantum of Solace shooting script came to be. (more…)