Fools Gold and Pools of Blue: Color Symbolism in Quantum of Solace

by Array Jackson (@ArrayJackson)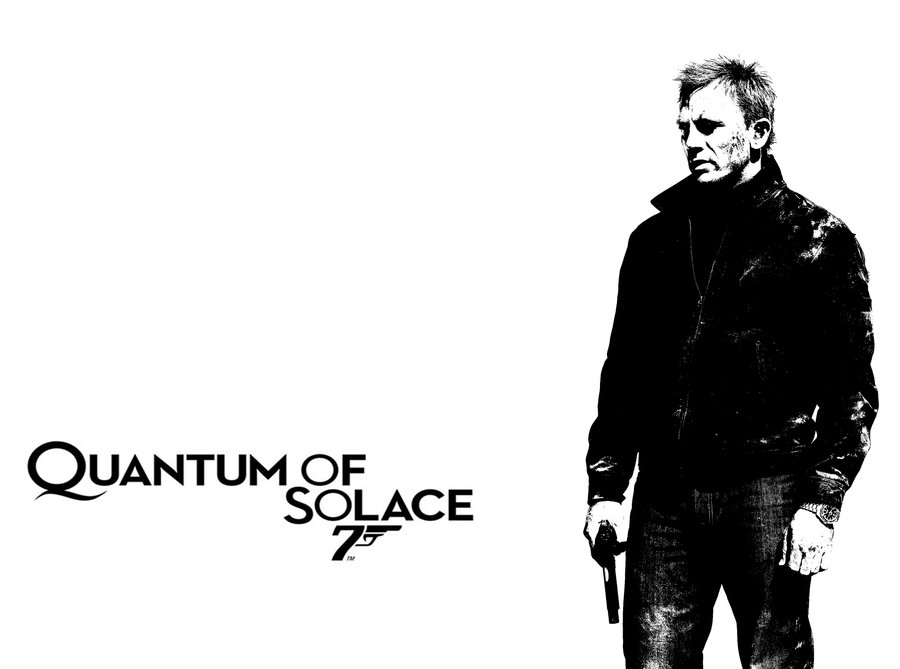 Beyond the surface is my unknown
I could fall
and fall
and fall
But could I reach the elusive destination?
If I stepped inside would I ever know I was there?
Is it possible to transcend
to crack the surface
to submerge the impenetrable barrier
Into your vibrant pools of blue…
My love letter to Daniel Craig ~ Array Jackson   
I can't get the image out of my head.  Larger than life. Vast. Deep. Breathtaking… The most amazing shade of blue. Can it be only a coincidence? I don't think so. I'm flooded with theories about Quantum of Solace.
I honestly can't remember if I saw Quantum of Solace in the theater; it's more likely I first picked up bits and pieces on cable. So when I sat down to watch it in preparation for this essay, I knew I'd already seen something of it, and unfortunately I'd heard a lot—a whole lot of negative. But I went into this project positive, determined I was going to find something in the film of immense richness, digging below the surface if necessary. If you will, I was questing for gold. And I found it. As a matter of fact about a quarter of the way into the film I was overwhelmed with gold. And then black. And suddenly that vibrant, poetic blue. I asked myself:  what the heck does all this bold color have to do with the plot? My ultimate answer: everything.
The film opens with the golden MGM lion, Leo, and after an intense car chase through Siena, Italy, we're immersed in the mediocre—by Bond film standards—credits of the desert and golden sand. During my second viewing of the film I listed all the golden objects until it became tedious. The highlights: a gold 2009 Ford Kia driven by our Bond girl, Camille Montes (Olga Kurylenko); Kurylenko's skin (I swear she has a golden aura); Felix Leiter's suit while he's on the plane with his CIA association and our villains; the walls, chairs, and champagne in the hospitality area and restaurant of the opera house in Austria; many of the women's gowns at the opera (was "metallic" high fashion in 2008?); boots worn by Strawberry Fields (Gemma Arterton), an MI6 Bond Girl; many of the sparse decorative objects at the Andean Grand Hotel; the interior and exterior of the hotel in the Atacama Desert; and the desert itself. If you begin at the opening credits, and with the exception of what is an epilogue set in Russia, Quantum of Solace begins and ends with the desert… the golden desert. If we extend the film all the way to the end of that frigid epilogue, the film closes with a symbolic image in the dark of night. We're left with the sharp contrast of a glistening object lying in the cold snow:  Vesper's sentimental necklace of gold.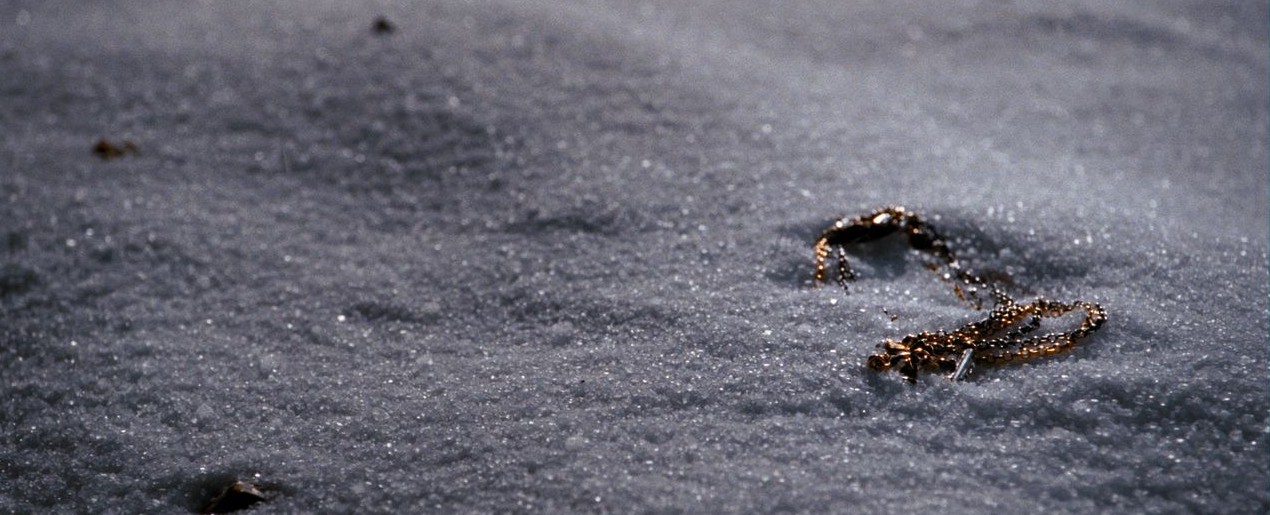 So what is all the gold about? Gold is a shroud. I see three points to this film, and gold masks yet delivers all three.
First point:  Bond needs the personal satisfaction of avenging the death of Vesper Lynd—his lover from the previous installment, Casino Royale—and, on a deeper level, determining if she loved him or was playing him as a fool. All that materially remains of her is a gold necklace given to her by her former lover. In Casino Royale this is a point of jealousy and intrigue for Bond, as Vesper wears the gift even as she is falling in love with Bond, and only takes it off hours before her death. And in the end, his symbolic gesture to get over and release Vesper is to release the necklace—to release the gold.
Second point:  Quantum of Solace introduces us to its namesake, the Quantum Organization, headed up by our villain, Dominic Greene (Mathieu Amalric). Their sinister plot is initially vague…vague, buried, and masked by the golden, Bolivian desert.
Third point:  There are three distinct locations that Bond travels to uncover and thwart Quantum's plot.  The first is the open air opera building in Bregenz, Austria. In the film a striking feature of this building is its restaurant and hospitality lounge with walls and chairs of the most vibrant gold. There are glasses of golden, bubbly champagne disbursed about. And again, many of the women at the pre-performance reception are wearing shimmering, gold gowns. They are stunning. This opera was to be a very elaborate meeting of Quantum's players, holding business in a sophisticatedly secretive, shrouded style. Yet Bond perceptively discovers that certain opera patrons are handed favor bags from a hidden stash, and he confiscates one to find an ear piece that allows him to infiltrate the malicious summit and listen in on a portion of Quantum's plans including Greene's statement: "This is the world's most precious resource, we need to control as much of it as we can."
A few days later, Bond and Camille charter a plane to survey Quantum's intended land acquisition by air. Their plane is shot down and they skydive out of the burning plane into a sinkhole. In the cave, Bond and Camille discover Quantum is damming Bolivia's supply of fresh water. It's assumed his intentions are to create a monopoly. They discover Quantum's true yet shrouded plans, buried within the gold of the desert.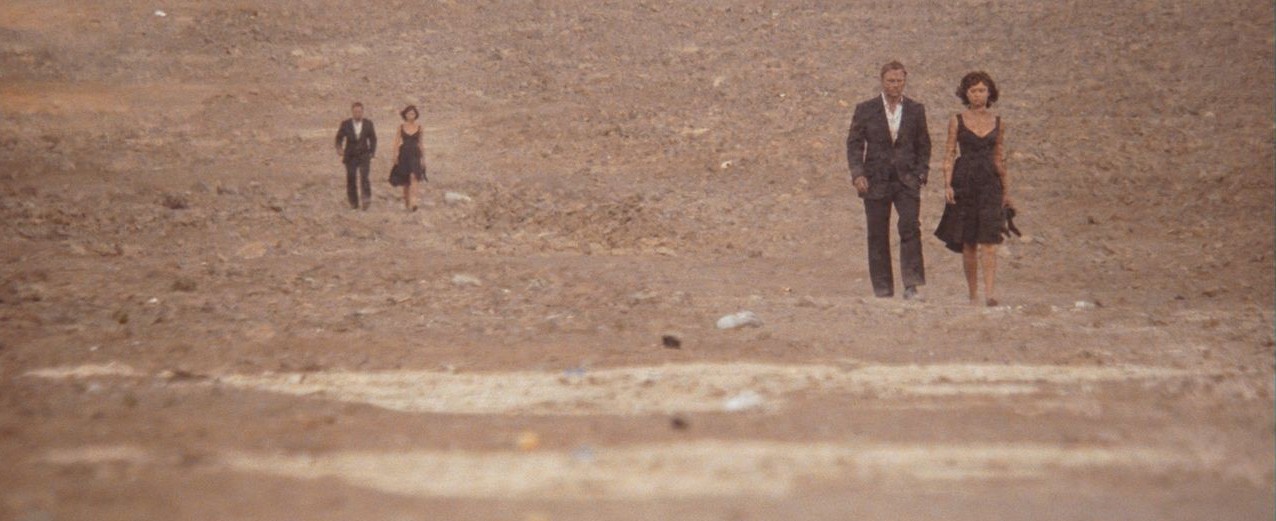 The last locale is the scene of the final, explosive climax. Bond and Camille trace Greene and General Medrano (Joaquín Cosío) to a hotel in the Atacama Desert. Interestingly the golden interior and exterior of the hotel is set against a backdrop of golden sand. Greene admits to General Medrano that Quantum now controls a majority of Bolivia's water supply and forces Medrano to contract Greene's company as the sole water utility, obviously, at excessive rates.
If the color gold signifies a shroud and ultimate release, then the color black represents a red herring. The most obvious example of this is how we are deceived in the film by thinking the Quantum Organization is buying up the Bolivian desert drilling for oil, when in fact they are hording water. Rich, black oil is an obvious and clever diversion from the truth.
There are two scenes in this movie that I won't soon forget. The first I'll mention is that of Miss Fields coated in dripping oil, slumped upon an elegant bed at the fictitious Andean Grand Hotel in La Paz, Bolivia. Clearly this is a throwback to the third James Bond film, Goldfinger, in which we find Jill Masterson dead from asphyxiation from gold paint covering her skin. But the Goldfinger scene is strangely romantic; Bond alone finds his Bond girl murdered, and we feel his undercurrent of shock and anger. He sits next to her on the bed, touches her, and looks her up and down. For a split second we feel the connection between lovers before Connery jumps into spy mode. It's a sensual scene and Miss Masterson is beautiful in her lustrous state. She's gorgeous, and somehow the sight of her stays with us forever as the sexy Bond girl. It's almost as if she becomes a gilded trophy that all subsequent Bond girls aspire to.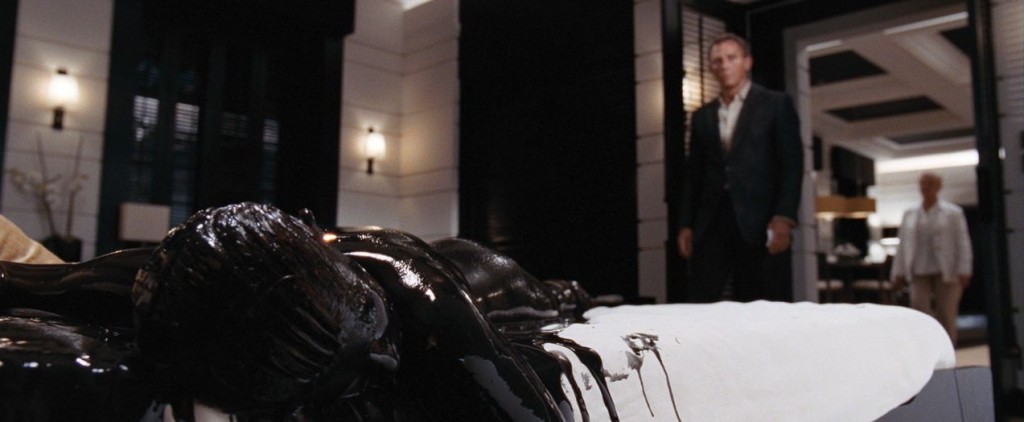 But in Quantum of Solace, Miss Fields was robbed of the same glamour. She was not discovered by our hero but by an assembly of snooping MI6 personnel. Bond, her lover if you will, was the last to find her and was already aware that something was amiss as he enters the bedroom. But he's not even allowed a private moment alone with her, as M is by his side in the full capacity of his boss. In my opinion there's nothing attractive about her body lying there on the bed—she's grotesque, actually—and the scene left me disturbed and thinking "what the heck was that about?" The more I thought about it, the more repulsed and disappointed I was. While pondering the scene in the following weeks, I wondered if it was the franchise's way of saying, "This isn't your father's Bond; this is the tougher, grittier, 'cruder' Bond." But we already knew that. When Auric Goldfinger's men left Jill Masterson painted in gold, her body remained behind as their calling card… "We're evil, and we want gold." But Dominic Greene is a dishonest villain. His group leaves Miss Fields hideously slumped and coated in black oil, and his calling card says "We want oil," but it's a lie. Mr. Greene is a creepier, more modern distillation of the Bond villain. Bond would never play a sporting round of golf with Greene—even a dishonest one – he'd punch him. Perhaps this scene is more representational, the disappearance of chivalry in villainy. They aren't the gentleman of Connery's day when gold equated to gold. In Craig's incarnated Bond world—a much darker world—goopy black isn't black at all… it's vibrant, sparkling blue.
The next scene with a strong black theme occurs at the opera. That environment was a plethora of black with all the men in attendance wearing black formal wear—tuxes with black bow ties. It made for an elegant confrontation between Bond and the villain and his posse, a high class "shoot 'um up" scene. We're still misled at this point, thinking the villain's scheme involves oil. And Bond is deluded as he grabs one of the men in black, assuming he is part of the Quantum Organization. Although unintentional, Bond is indirectly responsible for his death. When Bond calls MI6 to inquire about the photos he took of the Quantum members at the opera, M informs him the man that was killed was an advisor to the British Prime Minister. She reprimands Bond, telling him he must return to London for questioning. He refuses, and she cancels his credit cards and passport. At this point, Bond becomes a rogue agent.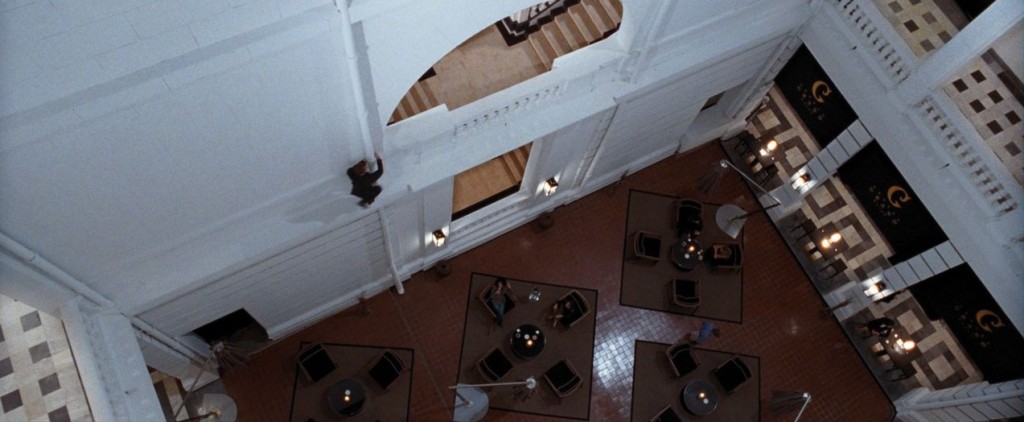 One last mention of black… The posh Andean Grand Hotel was completely decked in crisp black and white with accents of gold. Perhaps the misleading element of the hotel was that Miss Fields felt safe there alone. But she was not.
We need a respite in this film as it is hard, cold, and generally lacking in bits of witty humor that I prefer in my Bond flicks. The escape I found was the color blue. How appropriate that my thirst was quenched by the color of cool, life-preserving water, the true pursuit of Dominic Greene and Quantum.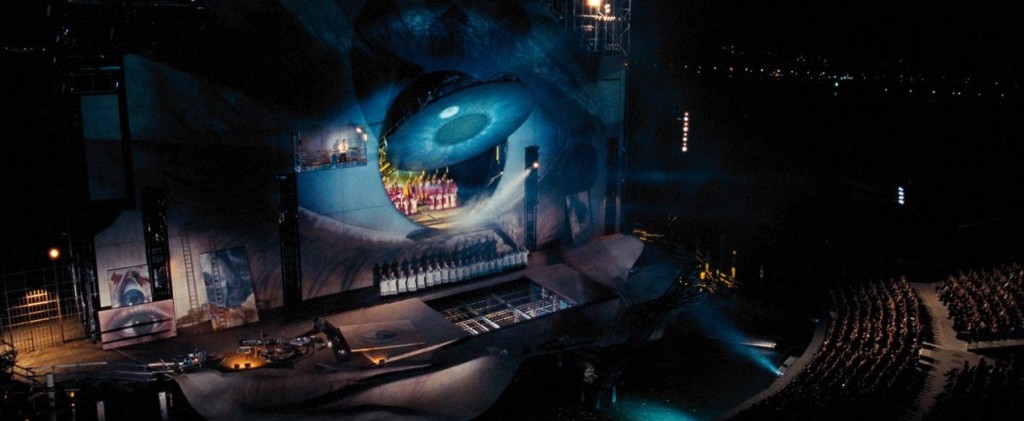 The first and probably most powerful instance of blue in this film occurred at a performance of the opera Tosca in Bregenz, Austria. I mentioned earlier there are two scenes in the film I won't forget—this is the second. A huge, magnificent, blue eye is part of the stage and appears to be integral to the story and action of the opera. From the brief snippet of this opera that the movie presents, one senses that the eye is almost a character in the story of the opera. From the plot of the film, I was unable to uncover a specific reason as to why the Quantum Organization chose this creatively lavish, high-brow environment to conduct business, other than the vanity, arrogance, and pretentiousness of the group. I think this locale was above all an artistic choice of the writers or producers of the film. In this scene James Bond climbs several sets of metal stairs on scaffolding behind the enormous eye which may double as a stage curtain. He perches behind a corner of the eye, peering over the top out at the audience. Members of Quantum are dispersed throughout the spectators, communicating through the tiny ear pieces. Bond is not only listening to the meeting through a confiscated ear device, but he's watching. The beautiful blue iris of the stage eye lifts and tilts to uncover an assembly of papal leaders. The eye is ever watching the audience, yet giving a glance at what is behind the eye. To me this is the embodiment of James Bond in this scene, and perhaps Daniel Craig as Bond. Bond is seeking out and watching his adversaries and occasionally giving glimpses of what's going on in his head—behind his eyes.  Daniel Craig seems to be a quieter Bond, perhaps more introverted. He and the film give us insight into what Bond is looking for, but penetrating into his head—reading his thoughts—is more difficult. Daniel Craig is much like that large operatic eye which is remarkably the same shade as his own trademark blue eyes. Also, probably not coincidental.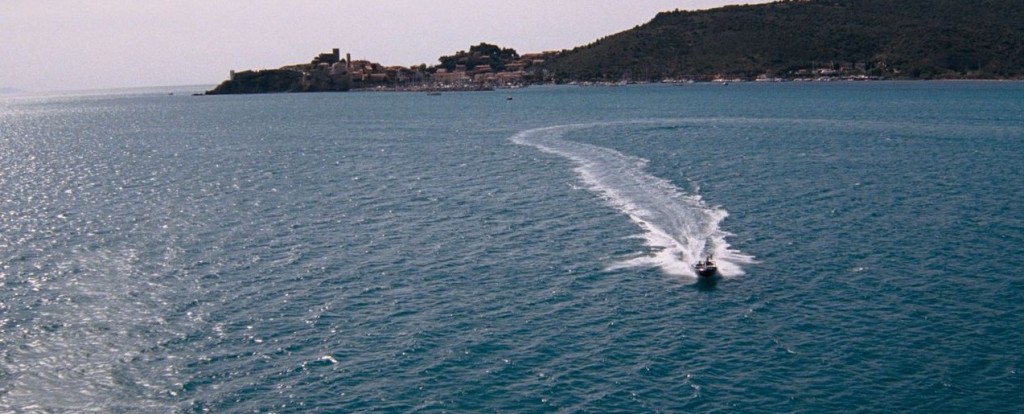 The commencement of the scene in which Bond revisits his ally from Casino Royale, René Mathis (Giancarlo Giannini) is a flood of breathtaking blue. It's set at Torre di Talamonaccio, a Tuscan villa, surrounded by the turquois Mediterranean Sea. Bond is greeted at the door by Mathis, an MI6 agent, who interestingly is wearing a baby blue oxford with a baby blue sweater draped over his shoulders. Mathis immediately asks if Bond is there to apologize, as Mathis was wrongly arrested in Casino Royale due to Bond's erroneous judgment.  The tone for this scene is now cemented with the shades of blue and Mathis's words:  we're seeking the truth. Mathis is the resource. This is Bond's first destination after being reprimanded by M, and since he does not have access to MI6 resources, Bond shares with Mathis the photos he took at Tosca of the Quantum leaders. Mathis, who's much older than Bond, knows the men and of their underhanded dealings. Bond convinces Mathis to assist him with this mission. To me, the use of beautiful, varied shades of blue in this film represent truth and the resources leading to the truth.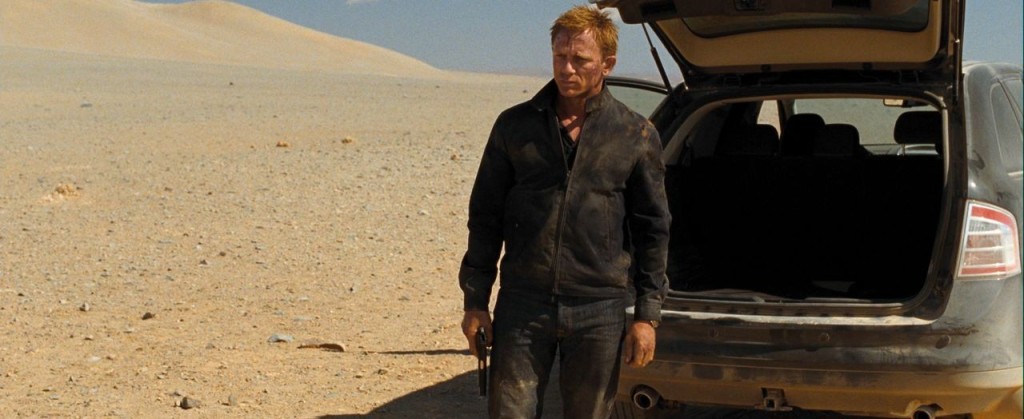 An interesting twist near the end of the film… Instead of killing Dominic Greene or taking him in to MI6 for questioning, Bond promises Greene he'll release him after he answers his questions. Bonds lets Greene go in the middle of the desert (gold) with only a can of engine oil (black) when what Greene needed to survive was a pool of water (blue).
The ultimate question:  does all of this bold color somehow make a less popular Bond movie a better Bond movie? I think weaving aesthetics and visually sensual or exciting elements into the plot makes all stories better. And I'd argue the device of color did make this a stronger Bond movie because it gives me the elements of Bond that I want but are missing on the surface.
In the world of Bond lustrous gold equates it to a strong, feminine counterpart. Vesper's necklace that symbolizes her in Quantum of Solace is… gold, smooth, shiny gold. Gold, as arguably one of the most iconic representations of a Bond girl dates back to the early Bond years. Again, of course, I'm referring to  the sensual, glistening, nearly nude body of the breathtaking Jill Masterson. The actresses who played Bond girls in the first three films, Ursula Andress, Daniela Bianchi, Honor Blackman, and Shirley Eaton—the women who set the Bond girl standard— were all blondes with sexy, silky hair of gold. In its purist form, gold in the Bond universe equates to the Bond girl, which equates to sex. This film has been called the "sexless Bond." Although Bond sleeps with Miss Fields, there's no building seduction and we see almost nothing of it. So I'm optimistic that the heavy use of gold in this film is telling me that Bond's libido remains fully intact as an undercurrent of his character.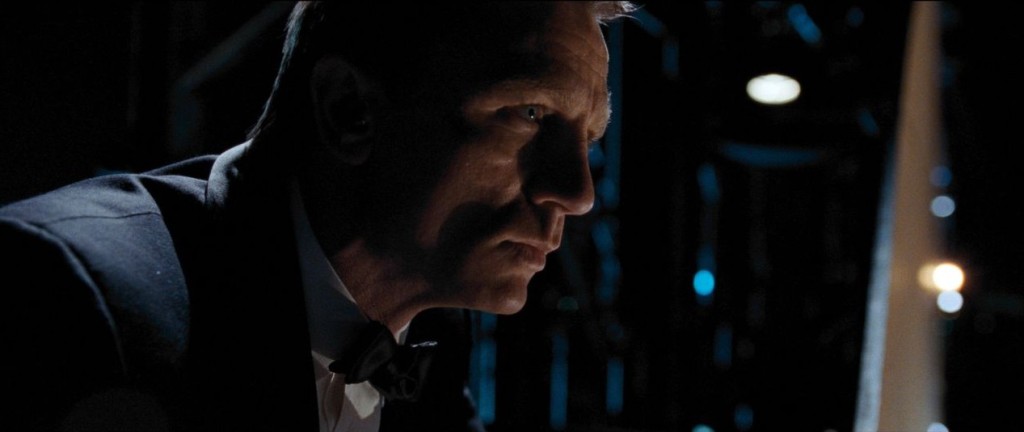 In Bond terms black represents sophistication. Close your eyes. Picture James Bond. Do you see him in a black tux with a pistol and a beautiful woman nearby? Yeah, you do. That black tux is more than his perennial attire. It represents his worldliness, his style, his elegance, and that he is a gentleman… a gentleman with a dark, lethal underbelly. Although Daniel Craig's Bond is tougher, grittier, and colder, I hope the black of the film is telling me the gentleman is forever and always there, just beneath the surface.
The Eon producers can make the Daniel Craig Bond more violent, meaner, tougher, grittier, colder, quieter, and less comedic. But they can't change the color of the actor's eyes. His gorgeous blue eyes soften him. They make him a little more vulnerable. They are seductive. They alone retain the qualities I want in Bond that the film has moved away from. It's inescapable.  My vision of the perfect James Bond is nicely preserved in Mr. Craig's vibrant pools of blue.

Array Jackson's random thoughts and short stories reside at arrayjackson.blogspot.com
Favorite Bond Movie: It's a tossup between From Russia with Love and Goldfinger
Favorite Bond Actor: Sean Connery (hands down, no tossup)
Favorite Bond Girl:  In my fantasies, it's me.
First Bond Movie: My first Bond memory occurred right after my family got cable TV (we lived in the sticks). The only scene I remember is Sean Connery in a coffin rolling into a cremation oven. I believe this is in Diamonds Are Forever.
How I discovered #Bond_Age_: When I first joined Twitter and consider my interests, James Bond was one of the first things that came to mind. How could I not follow an avatar of Sean Connery? Following #Bond_Age_ has been one of my best Twitter decisions and a lot of fun. I highly recommend it!