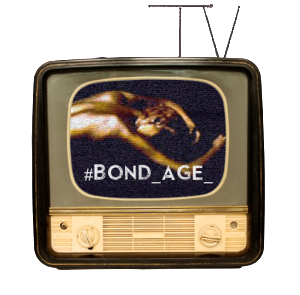 It's been some time since we revisited the Laura and Remington show. We had some legit Bond business to attend to with all the milestone anniversaries. Great for #Bond_age_ fans, less so for #Bond_age_TV fans. Today I bring good tidings and more #SteeleTweet. This week we're diving deeper into Remington Steele's second season. We're diving so deep, indeed, that we're hitting the next two episodes of the season. It might take us some time to navigate Season 2 because Remington Steele truly hits its stride with consistent quality and recognizable supporting players. There's a reasons most fans cite Season 2 as the best of the show's five-year run.
First up is a certifiable classic Steele episode called "Red Holt Steele." What the episode lacks in classic movie references and guest stars, it makes up for with Steele and Laura action. You'll see. (Bonus points for calling out the one standout movie reference.) The plot concerns a woman who thinks someone's out to blow up her head husband's aircraft company. Most notable in this episode perhaps is the director, Kevin Connor, who directed such 1970's adventure classics as The Land that Time Forgot and At the Earth's Core (starring Caroline Munro and other people, but let's be honest. We watched that movie for Caroline).
Filling out our bill is the frenetic "Altared Steele," an episode that more than makes up for the lack of supporting star players and movie references in "Red Holt Steele." The high-concept premise is perfect for the Remington Steele detective company, an old fashioned whodunnit (or more accurately whosgonnadoit). An amnesiac believes one of his five ex-wives is trying to kill him — the only problem is which one. This episode features at least four movie references and Designing Women's Delta Burke, regular TV player Carole White, and Malcolm in the Middle mom Jane Kaczmarek.
Dust off your lady fedoras. This week it's time to do some more investigating with Remington Steele. Join #Bond_age_ for the 9th Volume of Remington Steele live tweets on Wednesday, July 12th @ 9pm ET. We'll be watching Episodes 3 and 4 from Season 2. Follow #Bond_age_TV hashtag.