On August 25th, we celebrate Sean Connery's 86th birthday and since Slouchy Bond deserves the best of all possible birthday gifts, we here at #Bond_age_ believed that there was no better present than a #Bond_age_ riff on the great, the infamous ZARDOZ. It's the ZARDOZ LIVE TWEET! You're welcome, Sean.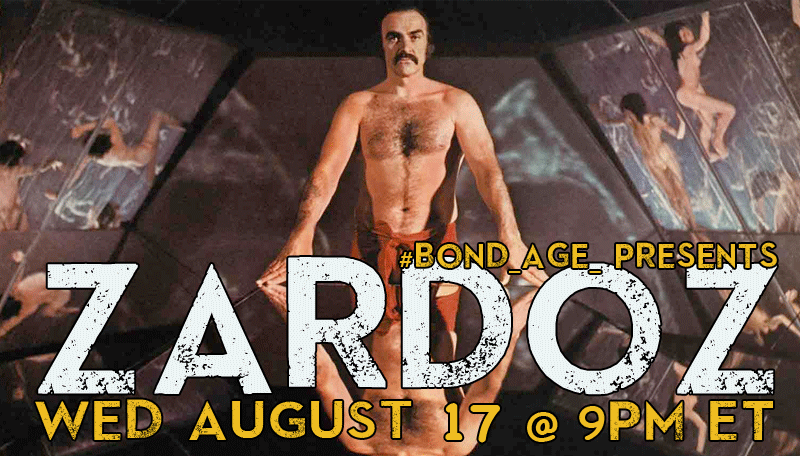 Happy 86th birthday, Slouchy Bond!
John Boorman first conceived Zardoz while working on an adaptation of The Lord of the Rings for United Artists. As you may realize by now, nothing came of those Boorman-produced Tolkein adaptations. Instead, we have ZARDOZ, the movie that Roger Ebert called a "genuinely quirky movie, a trip into a future that seems ruled by perpetually stoned set decorators…" Keep in mind as well that this was Boorman's follow up to Deliverance. That's right. Boorman went from banjo plucking rednecks with a vengeance to Zardoz.
In his post-Bond years, Sean Connery had trouble finding steady employment. He, in fact, approached Boorman and requested to be in his film. Connery agreed to work for $200,000 and Zardoz cost in total about $1million to make. Consider that Connery demanded a $1.25million salary to return to the role of Bond in Diamonds Are Forever, just three years earlier — which was at the time a record payout for one film. Connery displaced the original Zed, Burt Reynolds, who'd fallen ill before filming began. (Sidenote: Can you f'ing imagine Burt Reynolds in Zardoz?)
In the commentary track for Zardoz, John Boorman concedes that the film looks absolutely ridiculous, but suggests that enjoyment of the film requires entering into the film with the spirit in which it was intended. He says, "When I see the film now I'm astonished at my hubris in making this extraordinary farrago." I can tell you, with 100% certainty, that #Bond_age_ will live tweet Zardoz with spirit and farrago coming out of our bleeding eye holes.
By the way, that same commentary track suggests that Connery had no problem with the infamous banana hammock jumpsuit thing, but resisted, with great persistence, wearing the bridal gown. So he's got standards, you see.
Join us Wednesday, August 17th, as #Bond_age_ live tweets the infamous ZARDOZ to celebrate the great Sean Connery's 86th. Follow #Bond_age_ hashtag. Embed will appear on the #Bond_age_ website just before showtime.