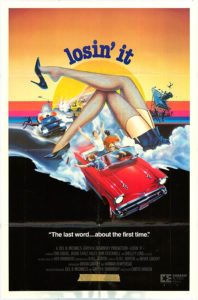 Many Cruisemoons have passed since our last Tom Cruising Live Tweet event. For those keeping track of such things, that was Days of Thunder way back in August.
The hell you say! 
Hell yes, I say.
Tom Cruise is back on #Bond_age_ with the movie he made right before Risky Business and right after The Outsiders, which in retrospect may have been a better movie to view because it also has Patrick Swayze and Ralph Macchio! NEVERTHELESS WE ARE HERE TO TALK TOM CRUISE NOT THE SWAYZE. Though a future series of #Swayz_age_ is not out of the question.
Losin' It (1983) is a not entirely uninspired teen sex comedy set in 1965 starring Tom Cruise, Jackie Earle Haley and Shelley Long. A bunch of horny, awkward high school boys head off to Tijuana for a wild night and in the process take on the company of a heartbroken and eccentric housewife. It's all very dumb and more than worth a riff or two. Most notable is that this is director Curtis Hanson's first mainstream film after toiling in cheap genre films throughout the 1970's. For those that don't recognize the name offhand, Hanson went on to direct L.A. Confidential, Wonder Boys and 8 Mile, among other notables.
Anti-Cruisers will enjoy how little respect the characters in this movie have for the Cruise.
Join #Bond_age_ on Wednesday January 17th @ 9pm ET for another edition of TOM CRUISING featuring Losin' It!