Wednesday (TONIGHT!) @ 9pm ET, #Bond_age_ live tweets the final film in the Ken Clark spy trilogy: SPECIAL MISSION LADY CHAPLIN, co-starring the great Daniela Bianchi.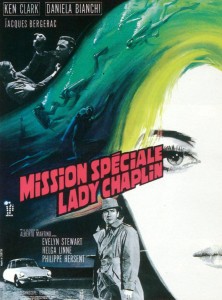 Again directed by Sergio Grieco and Alberto de Martino but originally billed as "Terence Hathaway," Special Mission Lady Chaplin finds our hero, Agent 077 Dick Malloy, mixed up with a Parisian fashion stylist, a missing nuclear submarine and a sixteen AWOL missiles. If you've seen any of the other Ken Clark entries, you'll know the actually plot becomes irrelevant sometime around the 2 minute mark. The "plot" is just an excuse to give Ken Clark people to punch and women to ogle. And in this final 077 film, we're given one of the finest women to ogle — Tatiana Romanova herself, Daniela Bianchi. Daniela gets to vamp and villain and sport a nun's habit in a highly entertaining opening heist.
This movie is the reason I wanted to do all three Ken Clark films. Both From the Orient with Fury and Mission Bloody Mary have built up to this, the resplendent feather in Ken Clark's EuroSpy cap. Mission Bloody Mary played fast and loose with genre tropes. From the Orient with Fury became an odd mixture of earnestness and parody coupled with technical "choices" that entertained and puzzled in equal measure. In Lady Chaplin not only do we get to see one of the great Bond girls in a featured role, we get a funny and well-paced spy romp featuring our favorite American EuroSpy export, Ken Clark and his hamfists of fury.
(Due to the size of the embedded file, please press play well before the start time of the live tweet. Once the video starts playing, press pause and the video will continue to load. This should prevent buffering and freezes during the live tweet.)
Agent 077: Special Mission Lady Chaplin – follow #Bond_age_ hash