Well, the writing had indeed been on the wall for some time now so to speak. My fears about this very event were well documented on multiple #Bond_age_Pods. Yesterday my fears were all but confirmed.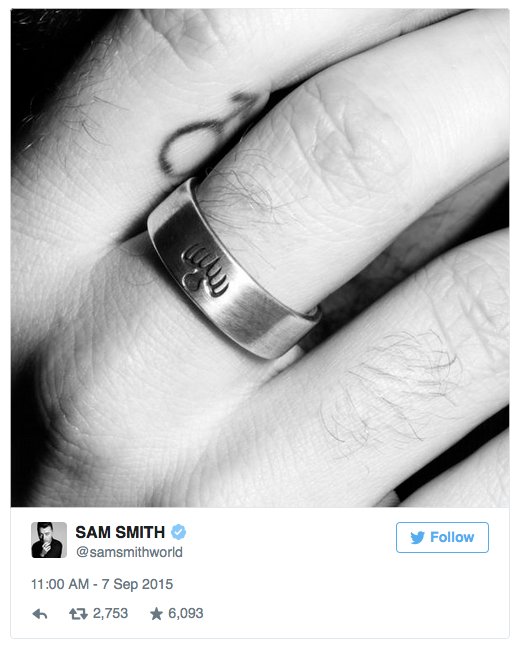 Millennial crooner du jour, Sam Smith, has been confirmed by our #Bond_age_ overlords as the singer of the SPECTRE theme song with this damning piece of evidence.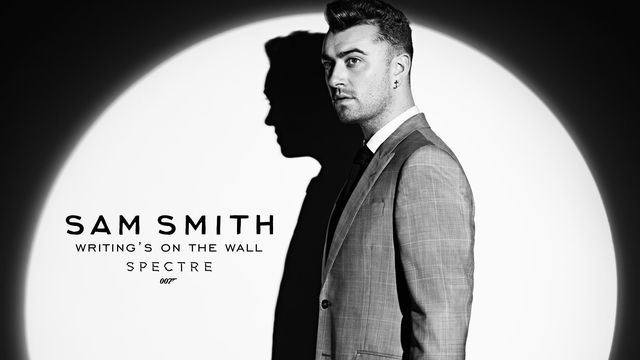 Now I may seem like a crotchety curmudgeon regarding this news, standing out on my porch, yelling at whippersnappers to get off my lawn. A baseball bat resting against my porch swing if one of them gets too close to my property with their gluten-free beer. I'm not just a movie and Bond fan, I'm a mass consumer of music as well. I've documented my favorite songs of the year for each of the last so many years on my bl-g at thirtyhertzrumble.com. I've been doing a Top 100 each year for the last 10. I'm often the oldest dude at the concerts I attend. My point here is that I'm not the guy that stopped listening to modern music after college. My tastes do not remain in cryostasis from the year 2001. The thought of being stuck forever with the music of the late 90's and early 00's makes me break out in cold sweats. If Bond has been my "thing" for the last few years, obsessive music consumption has always been "a" thing.
Some Twitter acquaintances have suggested that I would have hated any artist chosen for the SPECTRE theme. I disagree. I've not disagreed with a choice of the Bond song since Sheryl Crow did the Tomorrow Never Dies theme. (And, for the record, I believed Madonna could come up with a cracking theme for Die Another Day.) For the most part I believe that given the right material, just about anyone can do the gig. But you must have the right material. There's also a "type" of singer that does Bond right.
The questions I ask here are this:
1. Do you believe this artist is a natural fit for Bond?
(No. I do not.)
2. Do you tolerate/listen to this artist?
(I find his critical and commercial success baffling.)
Everyone will have different answers to these questions that will lead them to different conclusions about the viability of an artist to "do Bond." If, ultimately, your answer takes the form of "He'll probably be better than Madonna," that's not a ringing endorsement! The Twatterverse has offered that notion a few times as solace to my grief. As Kyle Turner (@TyleKurner) mentioned to me on Twitter – the Bond sound is malleable. And I agree completely; the songs that have become Bond standards comprise a wide variety of genre styles. Assessing "Bond worthiness" is gut reaction, a swift subjective analysis whether or not an artist can kick it with 007. Think about Elaine and "Spongeworthy."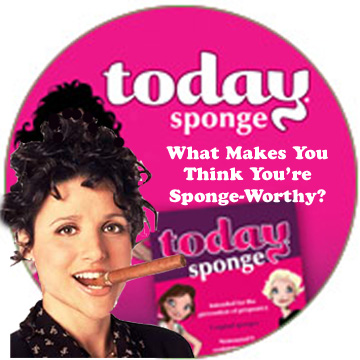 Now… is Sam Smith "Bondworthy?"
Many of you have confessed to not knowing anything about Sam Smith. For you, I embed his hugely, immensely, insanely popular single that probably won him the gig:
Sam Smith was picked to sell records. Sam Smith has sold many records. He will sell many more. I do not, for one instant believe, that music industry awards or record sales are an accurate measure of value. The Bond franchise has a history of picking hugely popular artists to perform theme songs rather than choosing artists that would fit the mold. Some of these have turned out well (see: Duran Duran). Some have not (See: Madonna, Sheryl Crow). Most fall into a middle ground between widespread approval and dislike. In the end, we're only arguing subjective value and/or overarching popular opinion.
9:52 edit: I was probed further on Twitter (the comments were appreciated @JoeWatchesTV) with a specific question about WHY EXACTLY Sam wasn't Spongeworthy. Fair question that I didn't discuss at all. Generally the performers that create lasting Bond themes are dramatic performers. Male vocalists tend to be less precise, off-key, bombastic pop vocalists. I'm thinking of Duran Duran, Paul McCartney, Tom Jones. The femmes have huge vocal ranges. Shirley Bassey even called out Tina Turner for her lack of range in the GoldenEye theme. Chanteusey cat fight! Sam Smith meanwhile sings with a "sweet, tender vocal style." He's highly produced and been called "honey-toned." Lyrically, I've found his songs full of lazy throwaway pop lyrics. People hear depth, I think, because of his wispy warble, but there's really a lack of substance. (If you want to hear a wispy warble with some substance to the music, listen to Perfume Genius and then tell me how Mr. Smith holds a candle to that man's musical and lyrical ability.) Can you name the last great Bond theme that came from anyone labeled "sweet" or "tender"? Rita Coolidge maybe? So the best we're hoping for here is "All Time High" stripped of whimsy and saddled with some 21st century malaise?
Here's why I'm troubled, beyond my lack of affection for his music. I feel that Sam Smith was only picked to sell records. Sam Smith was picked to sell records like Adele sold records. In no world is Sam Smith the same dynamic singer. In no world does Sam Smith's slimy tentacles of appeal reach into Bond fans as he has popular culture. That means that this choice was made with only the latter in mind.
Consider the journey the Craig era has taken. Casino Royale reinvigorated the franchise with a bold new take on the James Bond character. The commercial appeal of the song artist wasn't a huge consideration because the commercial viability had yet to be dertermined. They chose Chris Cornell.  They chose an artist that they thought was right for the picture. Cornell was 9 years removed from the last Soundgarden record. 7 years removed from his first solo record. Audioslave's debut record in 2002 had gone 3x platinum, but the sales of each subsequent album had dropped by 50%. Could you imagine a hard rock artist getting the nod today? Choosing Cornell was bold. I knew a lot of fans that balked at that selection too. Many people answered "No" to Question No. 1 regarding Chris Cornell. That might have been a fair assessment. But you couldn't have accused Bond producers of pandering or playing it safe by choosing a pop-culture zeitgeist just to sell records.
1. Do you believe this artist is a natural fit for Bond?
(No. I don't believe I did.)
2. Do you tolerate/listen to this artist?
(Yes. Soundgarden and Audioslave kicked out some jams.)
For Quantum of Solace, Bond went with a mismatched duet of Jack White and Alicia Keys. A bold choice that ultimately resulted in some fan backlash. Jack White, as the leader of the garage rock movement of the 2000's, continued the harder edge that Cornell had begun. White was a critical darling with a fervent following outside the Top 40 landscape. Adding Alicia Keys always seemed confused (perhaps a nod to the more populist following that White eschewed). Two great artists, either of which could have turned out a great theme by themselves, with an uncertain center. I like the song despite some odd production decisions ("Shoot 'em up / bang bang!). I don't think it's a great Bond intro, however. The broader fan base dislikes the song with the same furor with which they (wrongly, perhaps) reserve for the film itself.
1. Do you believe this artist is a natural fit for Bond?
(Yes for White. After Cornell, I believed White's guitar would do a theme justice. Yes for Keys. Killer pipes.)
2. Do you tolerate/listen to this artist?
(HELL YES for Jack White. Yes for Alicia Keys.)
In 2012, Adele was the biggest artist on the planet. A British chanteuse with a bold vocal range. Not only was she the obvious choice, she was the right choice. From a certain perspective the only choice. I don't even remember any other names being bantered about at the time (though I'm sure that's revisionist memory). Her theme for Skyfall offered the closest thing to Shirley Bassey (the I Ching of Bond themes) since maybe Tina Turner's GoldenEye, but more likely since Bassey's own "Diamonds Are Forever." Question No. 1 and Question No. 2: YES. She also happened to win a metric ton of Grammy awards.
1. Do you believe this artist is a natural fit for Bond?
(YES. A 1000x YES.)
2. Do you tolerate/listen to this artist?
(Yes. I owned both Adele records.)
Welcome to today. Welcome to a world in which Sam Smith won a similar metric ton of Grammy awards and Bond producers seem to think they can catch lightning twice. Sam Smith is not the same artist as Adele. He just doesn't have the same cross-generational appeal. I'm trying to compare him to any single recording artist that's provided Bond theme. I first thought Matt Munro for uncertain reasons, but Munro had a bit of swing in his repertoire, more swagger. I've been staring at the list for a few minutes. I've come up empty… except for Sheryl Crow, the hugely popular artist of the hour that just didn't fit the bill.
I hope I'm wrong. I hope it's everything the Sam Smith fans and Positive Pollys say it could be. Now that the deal's done and the song's in the can, it's time to get my head right and go into SPECTRE with an open mind, despite all the reservations that keep accumulating daily.