GoldenEye: Propelling Bond into the Future Since 1995
by Becca Andrews (@R_ViewMovies)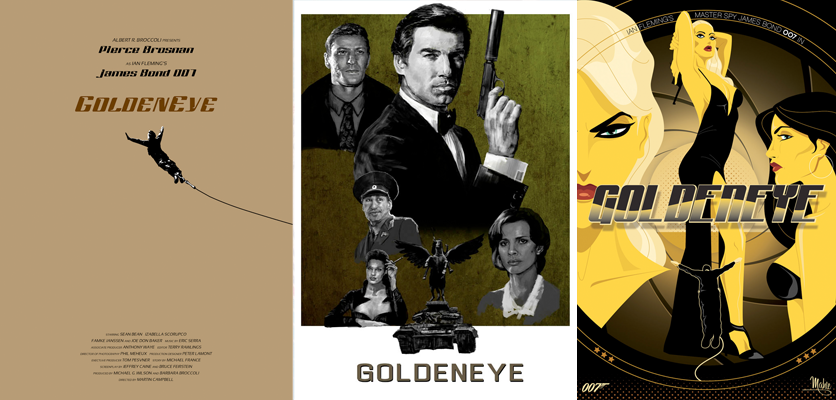 From 1989 to 1995, the world went six years without a Bond movie. Timothy Dalton hung up the Walther PPK after just two films. Pierce Brosnan was cast as his successor, with Martin Campell directing. GoldenEye proved to be a sure fire hit, rebooting the long running spy franchise and cementing James Bond 007 as the man for the moment (or last three decades) once again.
GoldenEye added a new ingredient to that famous 007 recipe for success. If you feel that things have grown stale, simply wait 4-6 years for the global cultural/political stage to shift slightly, cast a new face in the role of Bond and get Martin Campbell to direct. Your Bond film will be a success!
The biggest question facing the first post-cold-war Bond film was – Is 007 still relevant? The fact that Skyfall became the highest grossing film of 2012 and overtook Thunderball to become most profitable Bond film of the series so far has perhaps proved that yes, Bond is still relevant… perhaps more relevant than ever, thank you very much.
GoldenEye is my favourite Bond film for precisely this reason. Martin Campbell takes all the well-worn elements of the Bond formula and puts a fresh spin of them, resulting in an exciting and memorable chapter in the series. Brosnan's subsequent films tried but arguably failed to live up to the same standard. If it wasn't for GoldenEye's success, the future of the franchise may have been called into question. If it wasn't for GoldenEye, would we still have Bond?
Every so often, like Doctor Who, 007 gets a new face. Arguably, the only constant is the famous "Bond formula." To paraphrase three-time 007 director Lewis Gilbert, there's a "law of Bond," and fans expect the films to abide. The formula suggests that a successful Bond film must contain certain ingredients. Beautiful women/sex, exotic locales, evil villains and gadgets. And to a great extent, Gilbert speaks the truth. So it might be useful to explain why GoldenEye is my favourite Bond by looking more closely at these crucial elements.
Girls:  Bond has a hat-trick of ladies in GoldenEye, namely Caroline (Serena Gordon),  Xenia Onatopp (Famke Janssen), and Natalya  Simonova (Izabella Scorupco). The immortal Dame Judi Dench famously joins the franchise to portray the new M, reflecting the fact that Stella Rimmington had recently taken over the role in real life.
M famously calls Bond a "sexist, misogynist dinosaur, a relic of the cold war" and to a certain extent, I would be inclined to agree. There are many remnants of the Connery-era Bond left in GoldenEye – but there has been a changing of the guard. And although we see woman in positions of power, a true femme fatale stereotype still rises to the forefront. It's Xenia who uses sex to kill, further threatening the hierarchy and therefore must be put down, allowing Bond to bed Natalya, the film's ideal woman.
Exotic locales:  Bond does a fair bit of globe-hopping in GoldenEye, taking us to St. Petersburg (Russia), Monte Carlo (Monaco) and Cuba, although of course many of the interior shots of the Russian scenes were filmed in and around London. Fleming himself was well travelled and during the 1960's when both package holidays and the Bond films were taking off many cinema-goers were treated to a virtual world tour for the price of their cinema ticket.
Villains: GoldenEye has an interesting villain in Alec Trevelyan (006) played by Game of Thrones and Lord of the Rings star Sean Bean. Trevelyan is later revealed as Janus, the film's main villain with plans to steal the GoldenEye, a satellite-based EMP. As with Janus' two faced nature, the film has many nods to the past whilst bringing the franchise into the modern era. More memorably, the film's aforementioned female baddie – the thigh crushing, brilliantly named Xenia Onatopp.  She's obviously oversexed and harvests pleasure from giving people "a good squeeze." As with the world of Bond, the more bizarre the better. Skyfall's Silva has nothing on her!
Cars/gadgets: The Bond films have often been at the forefront of technology but also absurdity (Octopussy's alligator boat, anyone?). GoldenEye sees 007 driving a weapons-laden BMW Z3 roadster and the iconic Aston Martin DB5. Gadgets include a piton gun, a leather belt with a rappelling cord in the buckle, a pen that's also a class-4 grenade, and a laser-emitting watch that is also an arming device.
GoldenEye is very much of its time – a 90's Bond for 90's sensibilities. Although we'd like to think Bond has progressed since then, the films that followed suggest it may just be a pipe dream – although Skyfall may be the exception. GoldenEye has resounded so strongly with me as a Bond fan because it retains all the classic elements of the Bond films while updating them for a modern audience. It stands the test of time by recalling the past, but also propels Bond into the future.
First Bond Movie: In the cinema: Tomorrow Never Dies. On TV: A View To A Kill.
Favorite Bond Actor: Moore. Daniel Craig comes a very close second.
Favorite Bond Girl: Octopussy, embodying women's lib despite being a criminal mastermind (plus Maud Adams is the most prolific Bond girl, appearing in 3 – yes, 3 – different films as 3 different characters!)
How I Discovered #Bond_age_: the wonderful world of Twitter.
First #Bond_age_ Live Tweet: I've yet to participate due to the pesky time difference.