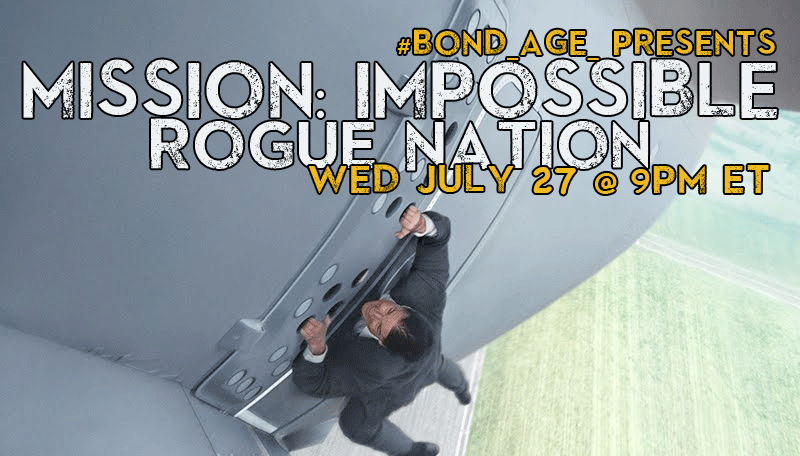 And now for the finale. Our MISSION: IMPOSSIBLE retrospective is coming to a close with the excellent action spectacle that handily out-Bonded Bond in 2015. By the time SPECTRE arrived in theaters in late November, it felt like stale potatoes. Threads of the plot eerily recalled this fifth entry in the Mission: Impossible movie series. Some may argue my feelings on this matter, but The Man from U.N.C.L.E. and M:I – Rogue Nation ran laps around Bond for pure fun and spectacle entertainment. James Bond in SPECTRE felt like EON chasing pop-culture, but pulling up halfway with the dry heaves.
Then when the whole Emily Blunt/Gillian Anderson as Bond Internet rabble gained momentum, I couldn't help but consider how Mission: Impossible had again stolen even Bond's hypothetical thunder. Rebecca Ferguson is the star of this here movie. Tom Cruise, of course, is Tom Cruise/Ethan Hunt… but Rebecca Ferguson makes herself a legitimate star in Rogue Nation and made a strong case for taking over the entire series when Ethan Hunt does finally retire. No farcical Internet hyperbole or shoehorning necessary. Our female espionage heroine has already arrived…
Anywho. Commentary aside.
Join us on Wednesday, July 27th at 9pm ET for Mission: Impossible – Rogue Nation! Follow #Bond_age_ hashtag, supplement with #MIRN. Embed will appear on this here site Wednesday before showtime.