If we're being completely honest here, I haven't seen Mission: Impossible 3 since the theater. I owned the DVD… until Vudu gave me a HD copy for free. I like free stuff. Let's not considering that a damning comment. I remember attending M:I3 out of series obligation. It had been 6 years since the prior outing and who was this J.J. Abrams guy and who stole all of Tom Cruise's sunglasses and bitchin' sunglasses? I had questions. I remember leaving the theater pleasantly surprised. But back to the honesty part… I don't remember why, now, all these years later. I remember thinking "low-key competency," like that's a thing in a summer blockbuster. My opinion in the interim ten years has been replaced by Internet hearsay and Tweet-speak. I've been reminded that it's a TV movie. I've also been told that it's the underrated gem of the series. I've been told that it's the toilet paper that Mission: Impossible – Ghost Protocol uses to wipe its collective arse. I'm paraphrasing here.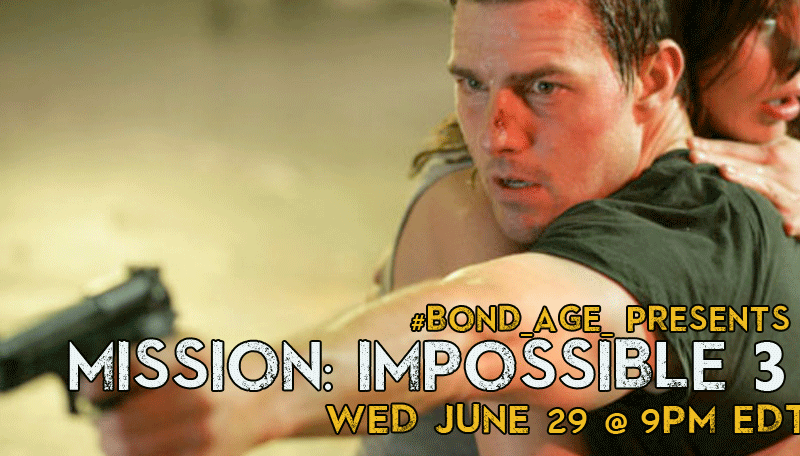 But no matter how you slice it, we here at #Bond_age_ aim to live tweet all of the Mission: Impossibles and we're darn sure going to follow through on our promise (threat?) to our constituents. Plus, I seem to recall Philip Seymour Hoffman being the bad guy. That seems pretty great, am I right?
Join us Wednesday, June 29th for the MISSION: IMPOSSIBLE 3 Live Tweet! Show starts at 9pm ET.
Follow #Bond_age_ hashtag and supplement with #MI3 so the innocent bystanders can chime in whenever possible. I'll post an embed of the film here shortly before showtime so all you folks without the film can join in the divisive fun as well.
Trailer:
PS: Mission: Impossible 3 features Maggie Q. That I definitely remember.