On May 22nd 1996, Ethan Hunt received new orders.
Directed by Brian de Palma and starring Tom Cruise, this shiny new reboot of the Mission: Impossible TV franchise had been earmarked on many calendars. I remember my own anticipation in the weeks leading up to the Wednesday release date. I don't remember if I skipped school or we just happened to have that day off, but I remember vividly arriving at the theater that morning for a noon screening with my friend Sarah. Our junior year of high school was winding down so either option would have been plausible. Inside the lobby of the theater was a gargantuan cardboard standup advertising the film. These are insignificant details, but I'm painting a picture here you see. The theater lobby was largely empty. Eventually the theater filled up with devoted noontime moviegoers, but I made sure I was there plenty early.
I'd seen a couple episodes of Mission: Impossible, but the series' history wasn't a driving force in my expectations. For me this was a Tom Cruise movie. This was also a Brian de Palma movie. de Palma, a director whose output I'd just begun to explore properly. I'd just watched Dressed to Kill for the first time. And to a young cinephile that particular film is profound eye candy. I was also a massive fan of U2. And the fact that Larry Mullen and Adam Clayton had composed this new theme for the movie contributed in no small part to my obsession with Mission: Impossible. Even before the release of the film. At 17, I wasn't the #Bond_age_ Guy. I was just an equal opportunity fan of movies. If you've forgotten the specific track, here's a reminder:
When I think back on the films for which I've built massive pre-release expectations, Mission: Impossible resides in the Top 10. I wasn't disappointed. I bought tickets to see the film again during the coming weekend. Mission: Impossible went on to break Terminator 2's record for a Wednesday opening and become the third highest grossing film from 1996. Critics generally embraced the reboot though their often backhanded praise fell short of unbridled fan enthusiasm.
Stephen Holden of the New York Times addressed the film's hyper-convoluted plot: "If that story doesn't make a shred of sense on any number of levels, so what? Neither did the television series, in which basic credibility didn't matter so long as its sci-fi popular mechanics kept up the suspense." The kinetic narrative glossed over narrative reason in favor of showy misdirection and entertainment value. Subsequent viewings (at least for me) revealed the frayed seams of logic, somewhat diminishing the film's luster. And yet Mission: Impossible holds a special place in my history of treasured cinematic experiences. Do you recall the profound silence where Tom Cruise repels into the heat-sensitive computer terminal? No one in the theater dared breathe. For this scene alone, Mission: Impossible left an indelible mark on cinema — and not just of the action variety.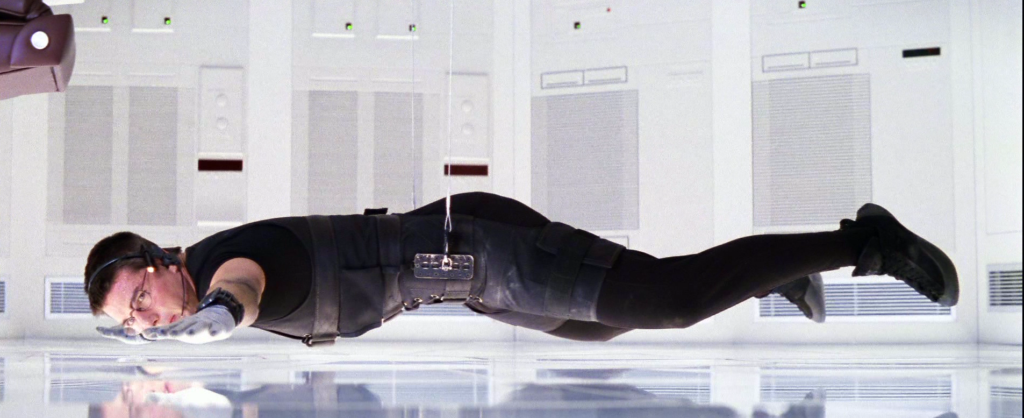 The success of 1996's Mission: Impossible spawned a two decade franchise (and counting). This seems rather insignificant in the shadow of fifty years of Bond. But let's consider that Tom Cruise has been playing Ethan hunt for 20 years now. No Bond actor ever entertained that kind of longevity. And though the M:I franchise has been full of fits and starts (rather than purposeful execution of the brand) as Cruise pursues other projects and personal eccentricities, the actor's dedication to the series deserves praise. 5 movies. 5 different directors. Consider further that the series peaked (arguably) with the fourth entry – Brad Bird's Mission: Impossible – Ghost Protocol. How often can that be said?
To celebrate these twenty years of Mission: Impossible, #Bond_age_ is going to go back to the beginning. Over the next couple months, we're going to live tweet each Mission: Impossible film starting Wednesday, May 25th at 9pm ET. For each film follow the #Bond_age_ hashtag.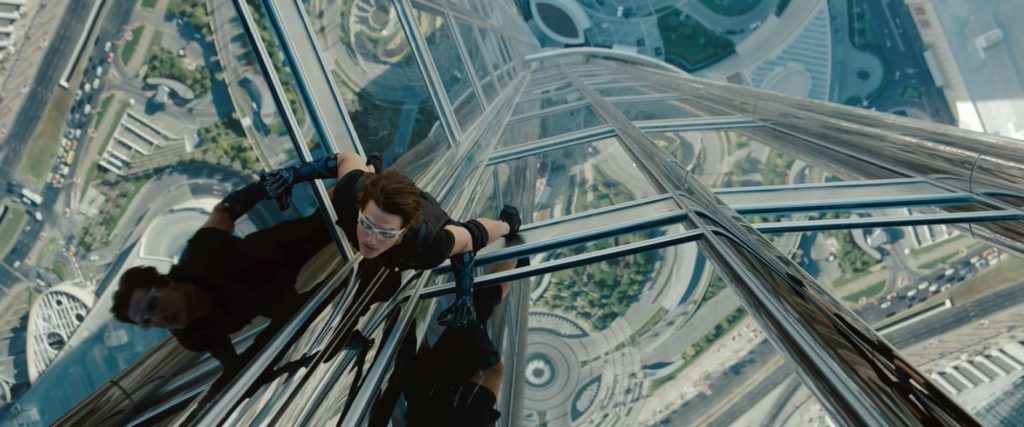 Mission: Impossible Live Tweet Schedule:
5/25/16: Mission: Impossible (1996) 20th Anniversary Live Tweet (#MI20)
6/8/16: Mission: Impossible II – 2000 (#MI2)
6/29/16: Mission: Impossible 3 – 2006 (#MI3)
7/13/16: Mission: Impossible – Ghost Protocol – 2011 (#MIGP)
7/27/16: Mission: Impossible – Rogue Nation – 2015 (#MIRN)
Join us over the next months for every Impossible Mission. If you have any memories or thoughts you'd like to share about the franchise, feel free to share your reminiscences. We'll post any and everything we receive as part of our three month celebration of Mission: Impossible.
Mission: Impossible (1996) Trailer: