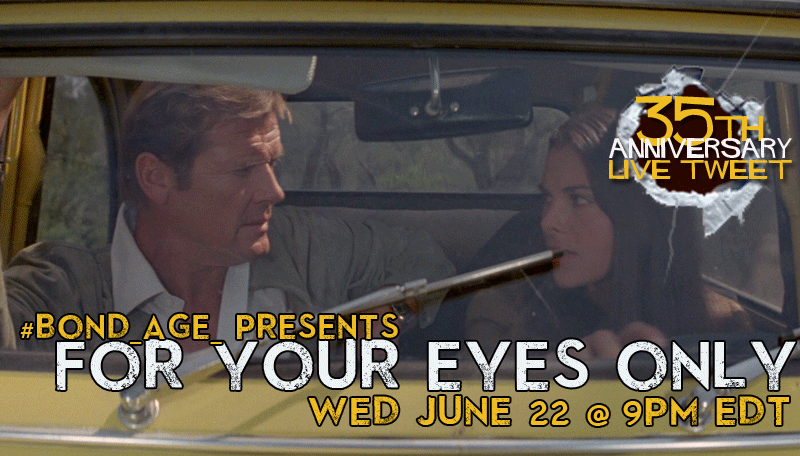 This week in 1981, For Your Eyes Only premiered at the Odeon Leicester Square in London. This fifth Roger Moore Bond film came on the heels of the infamous Moonraker. Cubby Broccoli stated that after that far-fetched adventure tale, he wanted to bring Bond back to the basics. One of the many times during the history of the franchise where producers have channeled Ian Fleming for inspiration. For Your Eyes Only also marks the directorial debut of longtime Bond director, John Glen, who makes his first of five consecutive Bond films after serving as editor and second unit director on all of the prior Roger Moore entries.
Reviews for the film were mixed. The Guardian called it overlong and boring, despite boasting impressive stunts. The Observer cited the pre-credit sequence as the best thing about the film. Other critics felt the film lacked connective tissue or a cohesive narrative. Many cited Roger Moore's performance as the best of his career despite panning the overall festivities. Count filmmaker Robert Bresson as one of FYEO's admirers saying "I could have twice in a row and again the next day."
Whatever the critics have said, For Your Eyes Only remains a #Bond_age_ live tweet favorite and an underrated entry in the series overall. The live tweets from For Your Eyes Only gave berth to #DERP, #CaroleBouquetsMyParentsAreDeadFace and DENIS! — and other memorable #Bond_age_ memes. Plus, skiing, Grandpa Bond, "not-Blofeld," kicking Locque's car off the cliff and jailbait Lynn-Holly Johnson. Behind the scenes, it was on the set of For Your Eyes Only that Cubby Broccoli first met future Bond Pierce Brosnan (his first wife appears as Countess Lisl).
Though For Your Eyes Only may often be forgotten by casual fans, #Bond_age_ will remain on that wall, reminding everyone that the film is a confounding and wildly mixed bag of juvenile entertainment, serious Bondness and one of the greatest cinematic climaxes of any Bond film. It's a helluva lot of live tweet fun.
Tune in Wednesday, June 22nd at 9pm for the 35th Anniversary Live Tweet of FOR YOUR EYES ONLY. Follow #Bond_age_ and also use the #FYEO35 hashtag.
For Your Eyes Only on #Bond_age_:
FYEO: The Forgotten Bond – the original #Bond_age_ essay
My Favorite #Bond_age_: Senescence in FYEO by Krissy Myers
Trailer: