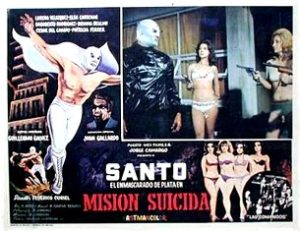 Hello again, everyone!
As you know, I've put The Avengers and Hawaii Five-0 on semi-permanent hiatus. It was a hard choice to make, as those shows are near and dear to my heart. Unfortunately, they never really picked up any traction, so I decided it was best to give them a rest. They may be back someday, but for now, Remington Steele will pick up the #Bond_age_TV banner.  This, however, left me with a problem: how to fill this week's #Bond_age_ slot? Well, not one to rest on my laurels, I thought an experiment was in order, and so I finally felt the time had come to try out a genre I've been wanting to try: the Mexican Wrestling film.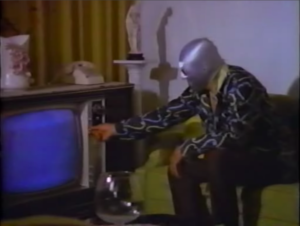 Luchadores are to Mexico as James Bond is to Britain; they're icons.  And none are as iconic as the legendary Luchadore El Santo. First wrestling in 1942, El Santo (The Saint) proved to be not just a strong wrestler, but a cultural phenomenon. He  brought Lucha Libre to untold levels of international exposure. When not wrestling in the ring, El Santo could also be found on TV and in the movies. His career led to an explosion of Mexican Wrestling films (including one of my all time favourites, La Mujere Murcielago). This week's #Bond_age_ feature is from the latter part of his career. El Santo finds himself working for Interpol, seeking to stop a group of Nazis from harnessing the secret of mind control. He finds himself dealing with various dangers, including girls in bikinis and sharks! The fun starts at 9 pm EST this Wednesday, and it will be using the #Bond_age_ hashtag. Feel free to also include #ElSanto in your tweets. Fair warning: the movie isn't dubbed, and there are no subtitles. I think, though, the pictures will speak for themselves. I hope you'll join me!