With Krissy Myers taken by a case of food poisoning and #PrisTweet again postponed, #Bond_age_ scrambled to come up with some kind of replacement programming worthy of the time slot. @007hertzrumble doubted he could make the live tweet on time so that removed Plan B (another few Honey West episodes). On to Plan C. And Plan C is an entry from @GregMcCambley's exhaustive list of obscure spy films available on YouTube. We spun the wheel of fate, and the wheel of fate chose MISSILE X: THE NEUTRON BOMB INCIDENT (aka Tehran Incident) starring Peter Graves, Curd Jürgens and John Carradine.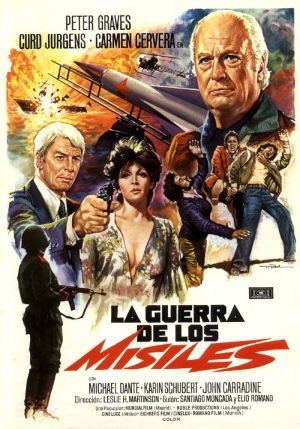 Director Leslie Martinson is best known for directing the 1966 Batman movie and episodes of Small Wonder (!). Added bonus: Ted V. Mikels, the mastermind behind the awesomeful (maybe just awful) Doll Squad and Astro-Zombies had a hand in adapting the screenplay. If you put all these pieces together, you can see we're aiming high for golden twatter.
The narrative according to IMDB: "An American intelligence agent travels to pre-Islamic Revolution Iran to try to thwart a power-mad European baron from using a stolen cruise missile to destroy an unspecific target in that country." Sounds like a winner.
Confession: We've never seen it!
Join #Bond_age_ for the MISSILE X: THE NEUTRON BOMB INCIDENT Live Tweet on Wednesday @ 9pm EST. Use #Bond_age_ hashtag.
Since I couldn't find a trailer, here's a slice of the super funky groovalicious soundtrack. There really are no words worthy of what's about to tickle your eardrums.