GoldenEye: The First Resurrection
by Nicolás Suszczyk (@NSuszczyk)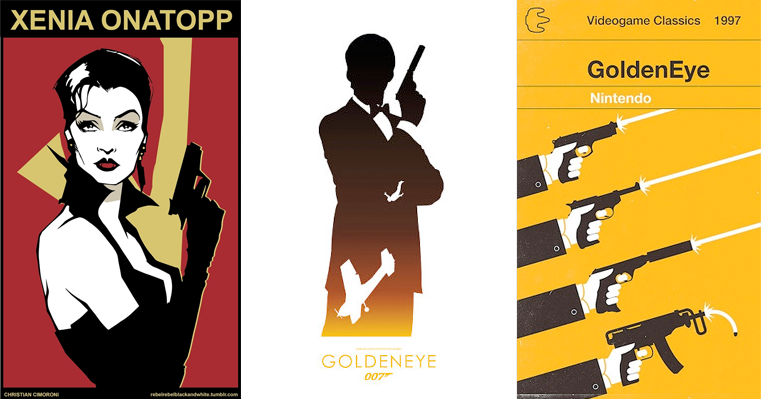 In Skyfall, Daniel Craig's James Bond says to an overjoyed Silva his hobby is "resurrection". Of course he resurrected in Skyfall after a not so bright Quantum of Solace and in Casino Royale after the somewhat grotesque Die Another Day. But the first resurrection 007 has ever had was, without a doubt, the 1995 film GoldenEye.
I was seven and a half years old when I saw a graphic ad in Buenos Aires announcing the cable TV premiere of GoldenEye in December 1997 or January 1998. Against a white background, there was a good-looking fellow in a tuxedo holding a silenced Walther PPK handgun, in an image lifted from the film's teaser poster under the tagline "you know the name, you know the number."
I didn't know the name. I didn't know the number, but that campaign forced me to learn more. I'd also heard once before some people in a toy store playing the famous GoldenEye game on a Nintendo 64 telling me this was the "agent 007 game." After my dad gave me some Bond backstory, on January 31st 1998 we watched the film on TV. Multiple things happened to little Nicolás Suszczyk there: I went wow when I saw the hero shooting the audience through a gun barrel. My eyes opened wide when the same man bungee-jumped over 700 feet from a dam, and, of course, I fell in love with Famke Janssen, now the only woman over 45 I would think of dating.
GoldenEye ushered in a new generation of Bond fans and introduced the Cold War secret agent to the last leg of the 20th century. It showed Bond can still survive and arise with success in a generation of Internet and cellphones and that he didn't really need SPECTRE or the Soviet Union to exist. Of course, the film has taken full advantage of the end of the Cold War, and they didn't hide the fact (some sort of in-joke maybe) that 007 was a "relic of the Cold War" — a notion perhaps only exacerbated by the more than six-year hiatus where everybody thought Bond was dead after the poor box office for 1989's Licence to Kill.
The remarkable direction of Martin Campbell (who has never disappointed me with any film, inside or outside Bond), the sharp photography of Phil Mehéux, Terry Rawling's breathtaking editing and of course, the vivid imagination of the late Michael France who choreographed the unforgettable face-off between two double-oh agents. Bruce Feirstein and Jeffrey Caine turned France's script into the the exquisite final recipe for GoldenEye, made even better with Pierce Brosnan, Sean Bean and Judi Dench in the cast. I even like Eric Serra's score. Of course it has many flaws, but those metallic pings and pops capture the essence of the film, not to mention its time and place. As does the score for the epic tank chase by John Altman and the end title song "The Experience of Love," which fits the triumphant feeling of the film's romantic ending.
GoldenEye is the Bond film that has it all: the inclusion of the Internet in a Bond film with a small pinch of a Soviet Union Cold War dread sprinkled about, explosive and breathtaking action scenes, a solid script dealing with Bond's emotions not only toward women but toward friends, an innocent and lovely girl in Izabella Scorupco, a sadistic sex-bomb in Famke Janssen, a charming but evil rouge agent in Sean Bean and of course, lots of humour with Robbie Coltrane and Alan Cumming.
Want to jump into the Bondwagon? Need a good introductory film to watch? Start with GoldenEye.
Nicolás Suszczyk was born and lives in Buenos Aires, Argentina. He became a James Bond fan at eight He studies journalism and runs the 007 fan sites The GoldenEye Dossier and Bond En Argentina.
First Bond Movie: GoldenEye on TV, Tomorrow Never Dies on the big screen.
Favourite Bond Actor: Pierce Brosnan
Favourite Bond Girl: Eva Green to marry, Famke Janssen for an occasional fling.
How I discovered #Bond_age_: Discussing Bond with unknown people worldwide.