The Man with the Golden Gun: Francisco Scaramanga Or: How I Learned To Stop Worrying And Love The Bond
by James Longshaw (@JLongshanks7)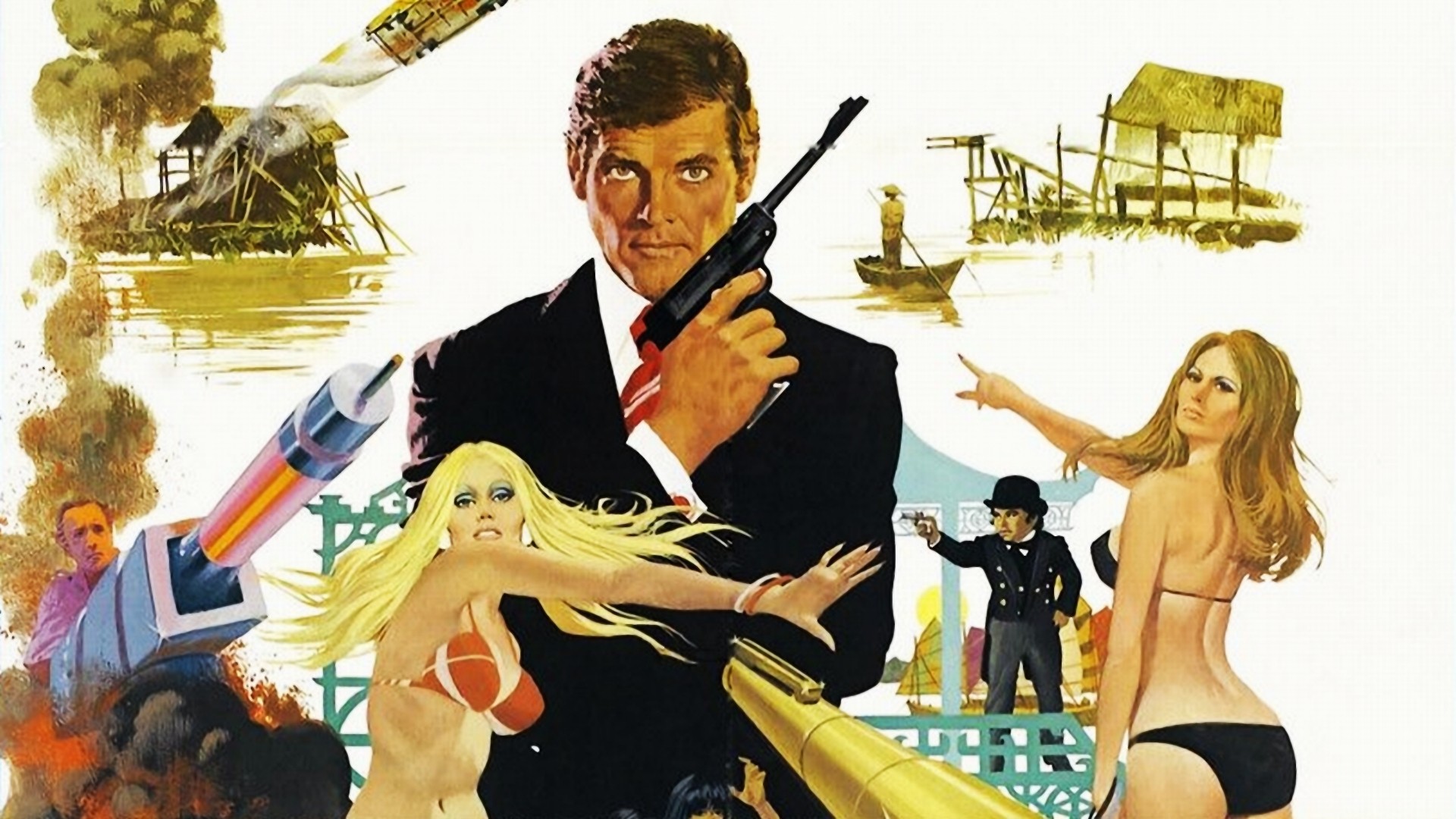 The Man With The Golden Gun (G. Hamilton, UK, 1974) a name that struck horror and ridicule in the hearts and minds of Bond fans for the best part of 30 years until a certain 2002 effort. It represented the end of the "Cubby" Broccoli and Harry Saltzman relationship. Indeed it was a film of lasts, as it was the title of Ian Fleming's final book to be released posthumously. To date, it is the last to be released in the succeeding year of a previous film. But is it really that bad? Join me and discover a multitude of reasons why you should stop worrying and love this Bond.
TMWTGG begins as it intends to continue with a "House of Fun."  This house features many a trap for the unsuspecting hitman, including models, mirrors and pitfalls. What could be more fun than seeing the primary villain's lair in all of its splendour? From this point we are already drawn in with the knowledge that our hero will be treading this same tricky path at some point in the film, especially when we see a replica of him getting a few finger tips from said villain.
It's not long before we are treated to Lulu's rip roaring Man with the Golden Gun title theme.
Now I'm not a massive fan of the shouting Scot but for me this theme works. It ticks all the boxes in terms of loud and proud instruments (some bold brass, shredding guitar riffs and powerful percussion) and suggestive lyrics. Kudos must go to Don Black for managing to fit such a long title into the track along with building up the mystique of the villain. From this theme we can deduce that he is wealthy ("charges a million a shot"), that he is top of his game ("an assassin second to none") and that he derives sexual pleasure from his line of work (I'll leave you to guess the lyric). We also have the vast array of naked female flesh on display along with multiple flashes of the titular weapon. All of this in less than three minutes is no mean feat!
We soon join our hero as he is presented with an interesting conundrum. A golden bullet with his number on it. From here on in we are thrown into the rest of the adventure much like Bond. We see everything from boat chases to flying cars and more in between. I could very easily continue with everything that is great within the narrative but I'd like to think that we are all very familiar with the story and so will break down the main reasons why I feel The Man with the Golden Gun is the best Bond film.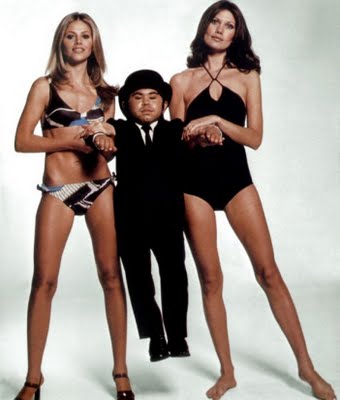 Another reason why I love TMWTGG is the Bond girls.
I will gladly admit that Britt Ekland as the bumbling Mary Goodnight is possibly the most hopeless Bond girl until Stacey Sutton and Christmas Jones, but like them she isn't too bad on the eye – she worked for Peter Sellers anyway! She also plays her part in some of the more humorous exchanges including being the "butt" of a situation in the control room, having a cosy night in Bond's wardrobe and who could forget Phuyuck?
Goodnight is complimented with the glamorous but enigmatic Andrea Anders played by Maud Adams. Again she is very pleasing on the eye (maybe it's because I like Swedish women) but also has a major influence on the story as it is she who brings Bond and Scaramanga together. From her very first scene with Bond in which she plays part in one of the more fascinating exchanges of the Roger Moore era, she manages to bring out an aggressive streak from our hero. A rare treat indeed. I am also impressed with the chemistry that Adams has with Christopher Lee and for this she really is a girl in a million – which is ironic as that is also how much the shot cost to kill her!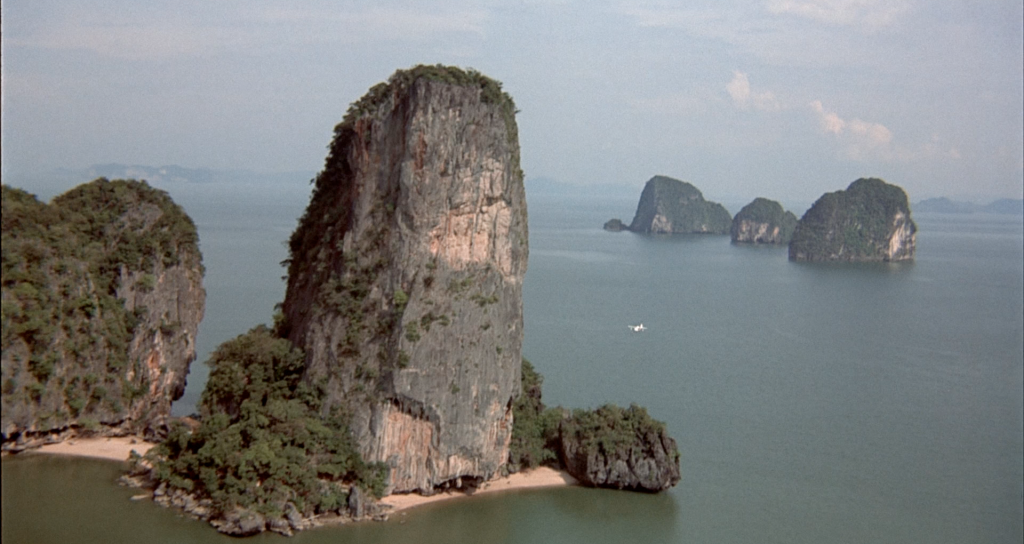 The locations in The Man with the Golden Gun are yet another reason to love this film. The unforgettable "Bond Island" of Phuket plays host to most of the action in the film with its classy beach, imposing mushroom like formations and hidden alcoves. This for me is truly the pinnacle of Bond sets and the best part is that it is all natural – not a $1 million Ken Adam set in sight!
The film also displays two further memorable locations, both of which are in Hong Kong. The Dragon Garden or "grisly land" in Bond terms features a fine array of statues (some a little too lifelike) monuments and structures. We also see a fine use of a sunken ship in the Harbour – who said the bad guys always get the best lairs? All of this adds to the stunning look of the film but keeps respectful to the Bond tradition.
Now to the final reason why I feel TMWTGG is the best Bond film. He is certainly the biggest (excluding J.W. Pepper for width) and best character of the film in my opinion.
I am of course talking about the irrepressible Christopher Lee – the man who was born to play a Bond villain and play it he does in the guise of Francisco Scaramanga. From the very start of the film we see a character that dominates the screen, with an imposing frame and an air of mystery about him. Admittedly we have seen this before in the series with characters such as Tee Hee and would see it again with the likes of Jaws but these are merely henchmen; killing machines that act on orders. Scaramanga is a different beast as he works of his own free will, a brilliant example of this being the way he calculatingly disposes of his employer Hai Fat to go solo.
In every scene we see Scaramanga he oozes class.  From his impeccable dress sense to his devilish sense of humour we see a character that is similar to our hero but at the same time the polar opposite. One works for "a hearty well done from her Majesty the Queen and a pittance of a pension" while the other gets a million dollars a contract. Two different lives you would say, but in the very same scene Scaramanga gets under the skin of an equally well-attired Bond by making him admit that "killing you would be a pleasure".  This makes Scaramanga a more menacing type of villain as he barely acknowledges his status even when delivering his chilling "indisputable masterpiece" speech. At least Blofeld, et al knew what they were doing was wrong and would use any means necessary to get to their aims.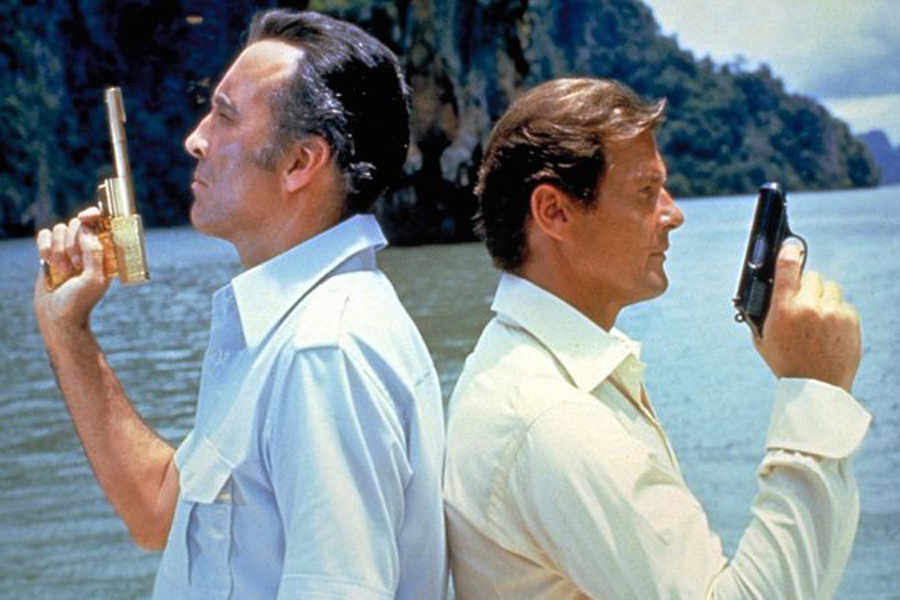 The film builds up to the climactic showdown of these two expert assassins.  The tension is as good as anything in the entire series with fine pacing and a few shocks up its sleeve. When Bond emerges victorious, as he so often does in these situations, he does so in a fitting manner. There is nothing of the over-inflated deaths in previous films just a plain simple shot that befits the way Scaramanga lived. Sometimes the simple ways are the best!
So what of Bond himself?
I feel Roger Moore is clearly settling in for the long haul with The Man with the Golden Gun.  The ingredients are all here for a classic Moore film – fantastic villains, beautiful women, great humour and scenes that defy explanation: in this case the AMC Hornet spiral jump. To summarise, TMWTGG may not have got its "indisputable masterpiece" but it is certainly a fascinating part of the James Bond story.
First Bond Movie: At the cinema it was GoldenEye. I watched so many from a young age that I'm not entirely sure which the first Bond I saw was but I remember Goldfinger leaving a big impression on me.
Favourite Bond Actor: Roger Moore for his larger than life adversaries, brilliant humour and sheer longevity.
Favourite Bond Girl: If I'm thinking superficially and saying looks the much maligned Christmas Jones may have a chance. As it is I like the complete package so would say the "triple X" rated Anya Amasova. A fascinating Bond girl as she is a female equivalent that could kill him at any time. I'm also a sucker for a faux Russian accent!
How I Discovered #Bond_age_: I believe I was discovered through a friend. I like what I saw and the rest as they say is history.
First #Bond_age_ Live Tweet: I'm still awaiting my official debut.