Back on December 12th, 2012, I live tweeted DR. NO and wrote a little essay about it. Two people joined me for that live tweet in support of that ongoing essay series I'd planned to write for a literary magazine. I backed into the gig because I was off running my mouth about James Bond and SKYFALL on the Twatter. Apparently, I had opinions that a few people wanted to hear. I'm certain everyone that encouraged me to start the process of writing about James Bond movies has long wished I would just shut. up. already. I'm not sure any of them are even still on Twitter. They may have no idea what kind of damage they've done. They certainly never wished for 24 Bond title credit sequenced remixed with Huey Lewis and the News.
When #Bond_age_ turned 1, we were neck deep in "The Wraparound" — our second live tweet through the series. The initial run had become so popular that they folks that joined midstream wanted to catch up on all the ones they'd missed. For the first #Bond_age_versary we live tweeted TOMORROW NEVER DIES. Many of the #Bond_age_ fans that joined that live tweet are still — against all odds — hanging around! They've become dear friends and I can't imagine these many years without their distinct voices in my TL. I've even come to know many of them personally. You're all the best. Honestly.
#Bond_age_ has sometimes become a kind of ball and chain. Life has gotten busier. My girls have gotten older (they're 11 and 8 now!) and those once luxurious 9pm live tweet start times have become more and more difficult to make with regularity. It's on these occasions of the #Bond_age_versary that I take a breath, look back, and appreciate how the hundreds (thousands?) of hours I've put into this project have fostered irreplaceable friendships that'll last even beyond The James Bond Social Media Project. However long that may be.
We don't draw the same kind of raw numbers to our live tweets anymore. We've gotten weird and made James Bond less of a focus, but that had to happen to preserve sanity and our love for James Bond. Once upon a time, however, the #Bond_age_ hashtag made the U.S. trending topics right alongside American Idol. I still think something went haywire with the Twitterverse that night, but here's the proof… from way back when… on our Goldeneye Wraparound Live Tweet, the week before the first #Bond_age_versary.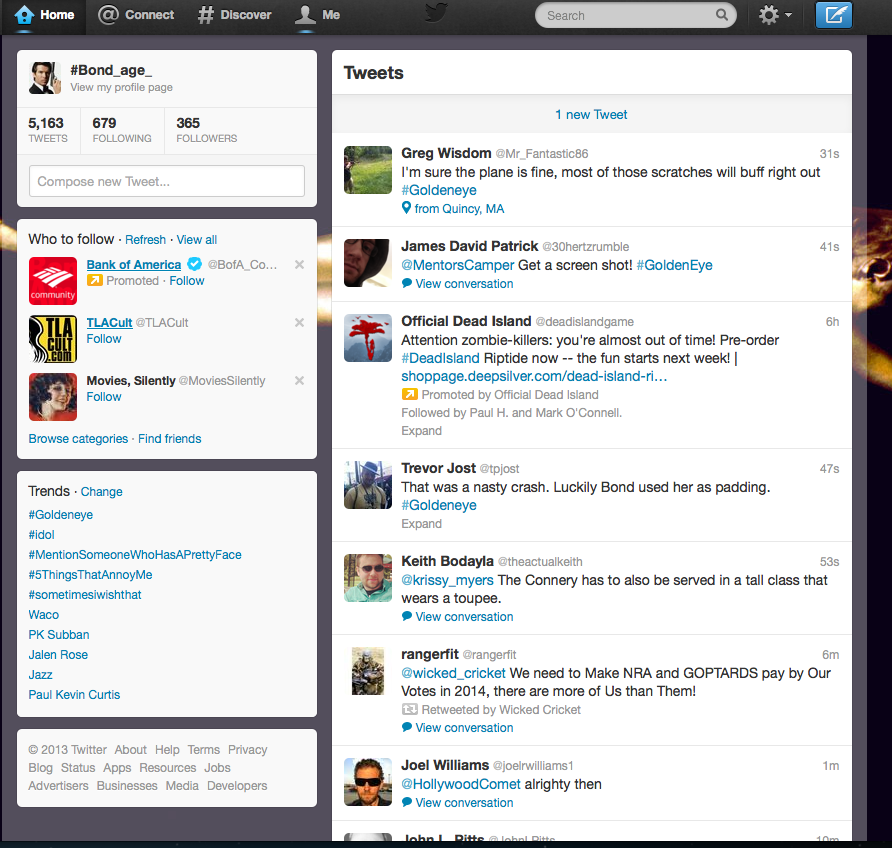 My takeaways: At this point, the @007hertzrumble account was still my secondary, live-tweet only soapbox with 365 followers? I still hadn't followed @MoviesSilently? What were Joel and Jessica talking about? And whatever happened to Trevor Jost?
But I digress. Back to #Bond_age_versary 8.
My final trip down the lane of memory comes with another visual aid. My very first #Bond_age_versary montage reflected the then current breadth of our live tweet universe. Only the Bonds showed up to the party.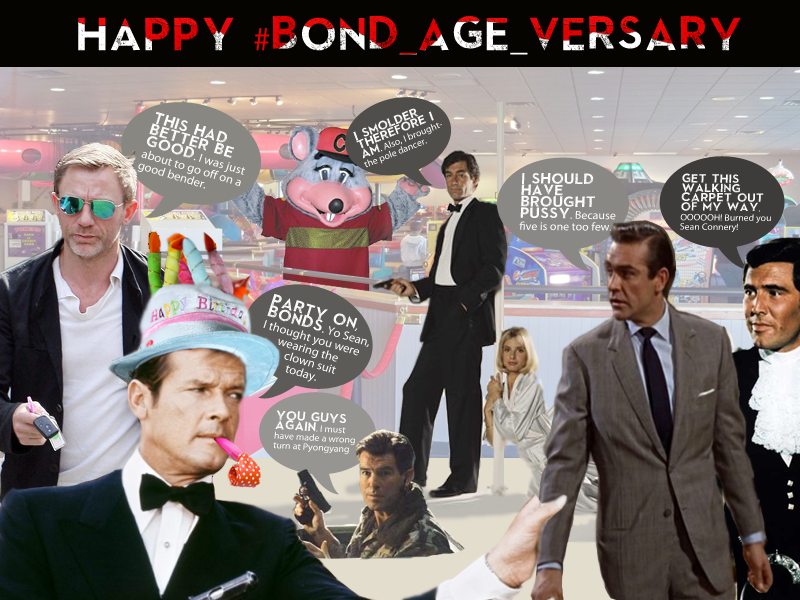 As we've expanded our live tweets and added mascots and favorite memes to our roster, the #Bond_age_versary montage has exploded. Just last week I updated this file for #Bond_age_versary 8. If you can name everyone in this new montage, you deserve something. I don't know what, but something real nice.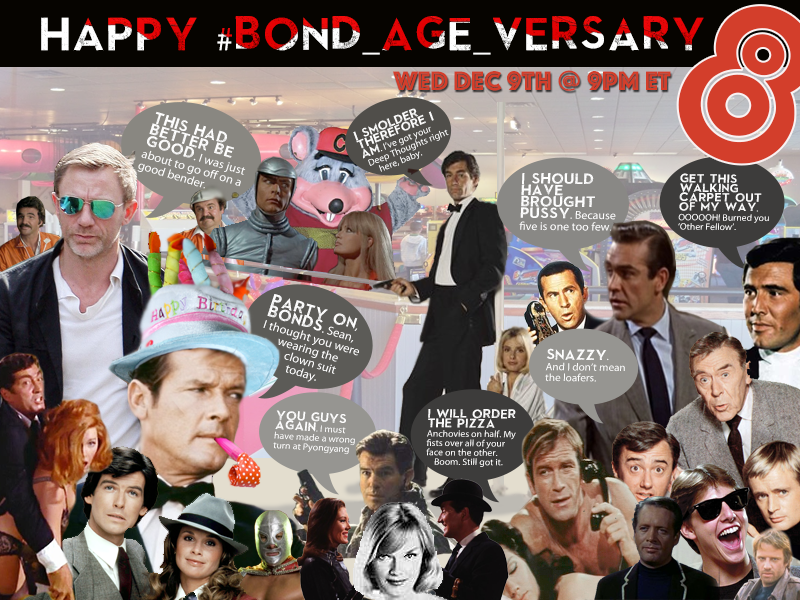 But enough about all of that. Join us on Wednesday, December 9th at 9pm ET for another live tweet of GOLDENEYE (1995). We bumped its proper 25th anniversary event back in November to celebrate our month of Sean Connery and I figured there was no better movie to celebrate 8 years of #Bond_age_ than the one that caused us to beat American Idol like a washed up, one-eyed, bow-legged henchman with plantar fasciitis.