Mission: Impossible 4 aka Ghost Protocol was the first M:I film I didn't see in the theater. I don't know why exactly. It had been 5 years since M:I 3. Maybe I just forgot. Busy Christmas season and all that. I do know I fixed that oversight as soon as the movie was released on DVD. I watched it two times in two days to make up for the errors of my ways. Directed by Brad Bird (best known for his work with Pixar) Mission: Impossible – Ghost Protocol was a dose of action adrenaline I hadn't seen in ages. A balls out spectacle with unforgettable stunts and true supporting cast. Sure, the supporting cast had been used to good measure in past M:Is but this time the movie felt like a true ensemble. And despite the bazillion dollar budget and flash and glam of a true Hollywood blockbuster, Ghost Protocol felt like Mission: Impossible. Same, but totally and completely different. And how often can you say that a film series peaks with the 4th entry? Get back to me on that.
Let's continue our Mission: Impossible film series retrospective live tweet series with this 2011 entry — Mission: Impossible – Ghost Protocol. Should you not own a copy of Mission: Impossible – Ghost Protocol, I will provide an embed right here on this website. The embed will go live at 8:00pm ET and go down immediately after the live tweet.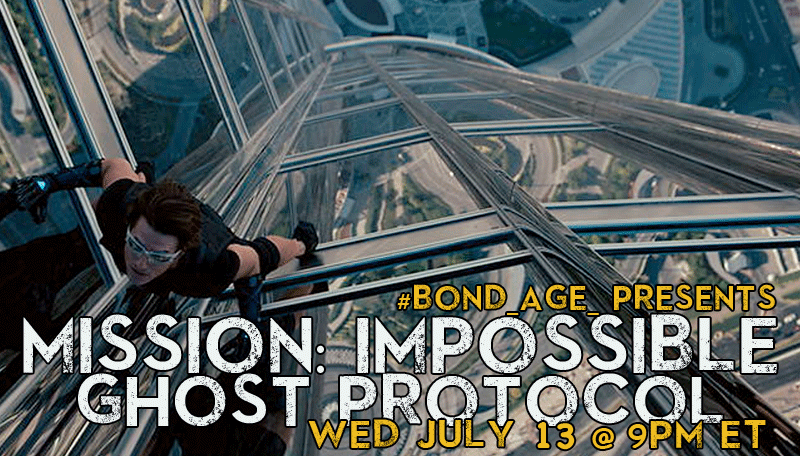 Join us Wednesday, July 13th @ 9pm ET for the Mission: Impossible – Ghost Protocol Live Tweet. Follow #Bond_age_ hashtag. Supplement with #MI4.
Trailer:
Maybe if there'd been time we could have done a double feature with this Goldie Hawn classic: