The Birth of Matt Helm and The Silencers
(#Bond_age_ live tweeted Murderer's Row some time ago. Here are your refreshers about that live tweet: Live Tweet Digest / Many Fashions of Ann-Margaret poster)
The year was 1966. The year prior, Thunderball had just become the biggest James Bond in history (and held its title until Skyfall). The cinemascape had become saturated with spy flicks — both sincere… and not so sincere. If I had to pinpoint one year as the pinnacle of IMPOSTOR! that year would be 1966. Our Man Flint. Quiller Memorandum. Modesty Blaise. Funeral in Berlin. Just to name a few. On February 18th, 1966, Dean Martin appeared in The Silencers, the first of four appearances as Matt Helm.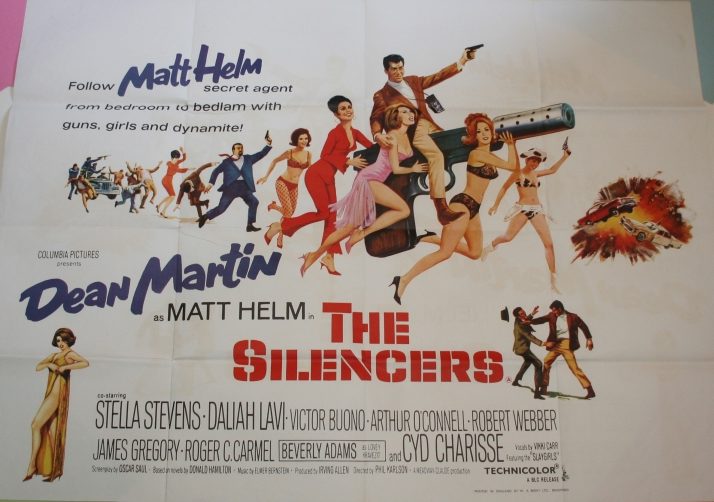 Though not apparent at face value, Matt Helm and The Silencers has many direct ties to the James Bond series of films. Producer Irving Allen had been a partner with Cubby Broccoli in Warwick Productions. The partnership broke up due to Broccoli's prolonged family drama (his first wife was diagnosed with terminal cancer) and because Broccoli desperately wanted to buy the rights to James Bond. Allen had no interest in a supposed "action-adventure" film.
The pair actually met with Fleming at Cubby's urging. In this meeting, Allen told Fleming his novels weren't even "good enough for television." A costly commercial failure later (The Trials of Oscar Wilde), the partnership dissolved in bankruptcy.
Broccoli, of course, went on to start Eon Productions with Harry Saltzman, shepherded to screen by United Artists. Irving Allen struck out on his own. His most notable release after the break was a wildly inaccurate historical epic about Genghis Khan. After observing Broccoli's success with the Bond series from afar in 1962, Allen began thinking about his own spy series. This led him, eventually, to Donald Hamilton.

Hamilton wrote about a dark, brooding American spy. He was to Matt Helm what Ian Fleming was to James Bond. Each put a lot of themselves and their WWII experiences into their creations. Both were former military servants turned novelists. One American and one British. Hamilton had been a chemist in the Navy and began writing heavily during his time of service.
Hamilton's early output belonged to the Western genre, but after the success of Ian Fleming, he began writing spy novels based on his own experiences in the War. While Fleming's James Bond lives the life of a playboy assassin — the stuff of male fantasy, Matt Helm exists in a place of dark malaise. Helm has semi-retired from his Nazi-killing ways to a life of convenience in Santa Fe with a wife and kids. Globe-trotting to Helm meant ratty motels in the armpits of the world.
And so Irving Allen cast Dean Martin. Obviously.
Allen had a reputation for being anywhere from abrasive to a complete asshole. When Allen stumbled upon Hamilton's Matt Helm novels in an airport, he believed Helm would be the perfect American counterpoint to James Bond. Allen purchased the rights to the eight Helm novels and found a partner in Columbia Pictures who'd also passed on Bond. The two parties were an ideal match, forged in purgatorial regret and relatively empty coffers.
Turning to A Streetcar Named Desire's scribe Oscar Saul and noted film noir director Phil Karlson (who'd been rejected for the Dr. No gig due to salary demands), Allen had every intention of making his Matt Helm films a goddamn series spy incarnation. Then Allen hit a snag. Tony Curtis, Hugh O'Brien, Richard Boone, Paul Newman all turned him down. Either they were involved in their own pet projects at the time or they balked at the notion of being a second-fiddle Bond.  Suddenly, Allen's goddamn serious spy series became a spoof.
If you can't beat 'em, spoof 'em.
Dean Martin feared his film career had ended with the dissolution of his partnership with Jerry Lewis, but he still feared that Allen was either a complete buffoon or yanking his chain. Why would he — charismatic drunk and lounge singer — ever be asked to play James Bond? So Dean Martin made a number of outlandish contractual demands to test the producer. Allen accepted, much to Martin's surprise. The script transformed from brooding film noir to Dean Martin lounge act overnight with Martin himself bringing in his Rat Pack team of writers to "Dino" it up a bit.
Instead of a married man living in Santa Fe, Matt Helm became a swinging, alcohol-fueled bachelor living in a state-of-the-art lovers paradise. James Bond as technicolor lounge lizard. Critics considered the film both an affable spoof of 007 but also a cheap, distasteful attempt to cash in on the spy craze. And that's exactly right. The Matt Helm films are, from our perspective, 1960's exploitation. Campy and ill-conceived, viewers are merely meant to enjoy the parade of scantily clad women and cheap, boozy gags. Despite the critical division, audiences embraced Dean Martin as Matt Helm, turning The Silencers into a $16million success (the equivalent of $120million in 2016). The film resulted a financial windfall for Irving Allen, Columbia, Dean Martin and Donald Hamilton, who saw the popularity of his books spike in the wake of the film.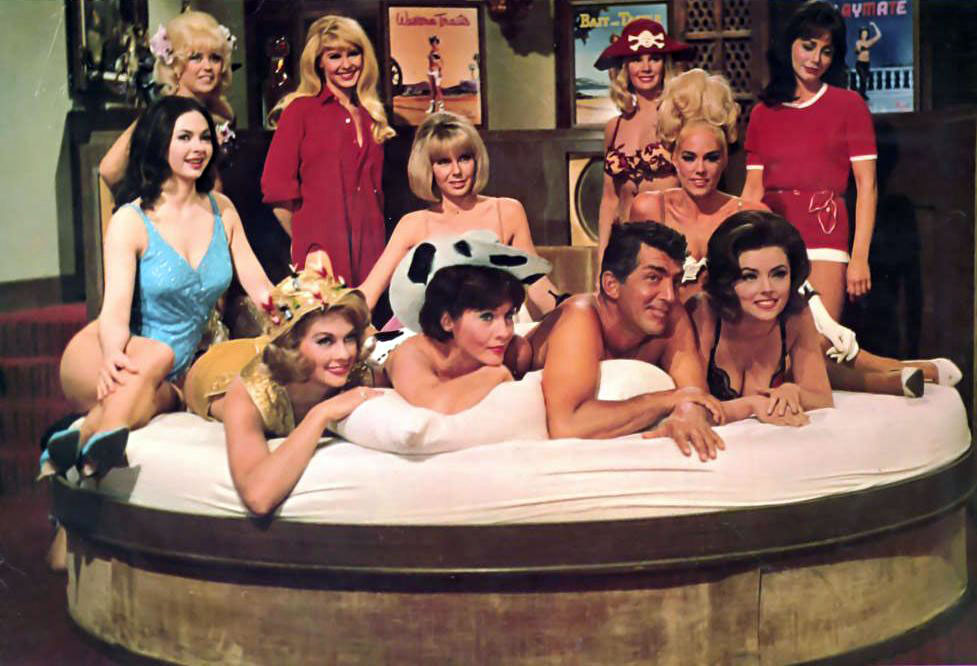 And then the Go-Go Dancing Stopped.
The Matt Helm film series would continue until 1968 with the fourth and final film, The Wrecking Crew. Though the film had announced a fifth Matt Helm called The Ravagers, dwindling box office returns and his sick mother caused Dean Martin to step away from the role. Silly spoofs had also fallen out of favor. The assassinations of JFK and Martin Luther King, Jr. The Vietnam War now a fixture of the country's collective conscience. The murder of Sharon Tate (who'd appeared in The Wrecking Crew) likely proved to be the tipping point for Irving Allen. Allen tried to revive Helm in the 1970's but the tone of American cinema had shifted. Only Hamilton's original Matt Helm could have a place in the dark and dour American spy films of the 1970's. Bond, of course, endured, with Roger Moore acting as counterprogramming. But Bond is Bond and Matt Helm was Dean Martin. Allen attempted on final Matt Helm revival on television with Tony Franciosa in the lead. The ABC series lasted for 13 episodes during the 1975-1976 season before being cancelled.
If you want to read an expanded history of Matt Helm, Irving Allen and Donald Hamilton check out Keith's excellent piece on Teleport City.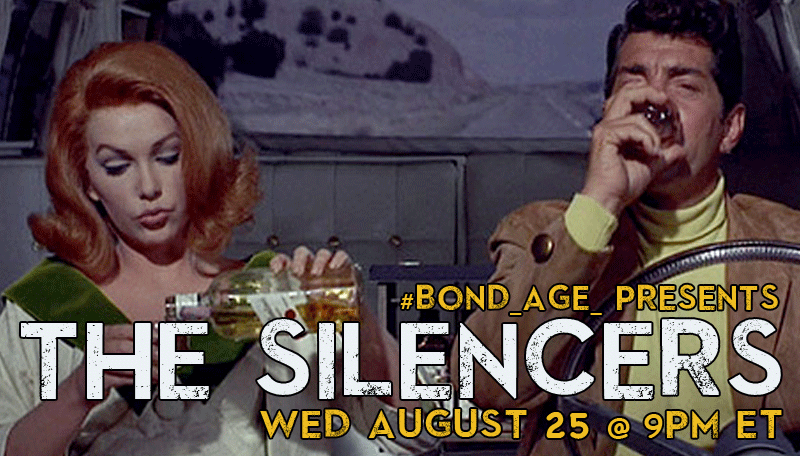 Join #Bond_age_ for the live tweet of The Silencers on Wednesday, August 23rd at 9pm. Follow #Bond_age_ hashtag. An embed will appear on the website shortly before showtime.
The Silencers Clip Reel Set to the Swingin' Score: