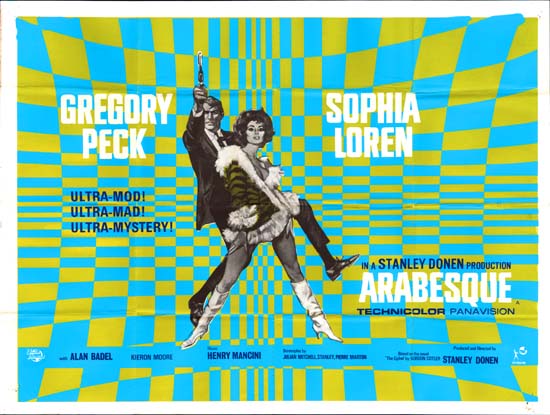 Guest programmer @d3sk has lined up a classic spy caper featuring some unknown schmoes named Gregory Peck and Sophia Loren. I dunno. Maybe you've heard of them.
Director Stanley Donen followed up the smash Charade with Arabesque, a comedic thriller based on the 1961 The Cipher by Alex Gordon. Teamed again with composer Henry Mancini, Donen served up a free-form jazz version of Charade with Hitchockian devices and romance and a chase scene with a thresher. The bustling, busy, complicated shoot compelled Donen to tell his cinematographer Christopher Chellis that the next movie they make will be "something small, just two actors, and we'll shoot and eat our way through France." Donen's next picture coincidentally was Two for the Road.
Join us as we give Arabesque the #Bond_age_ treatment on Wednesday, November 4th at 9pm EST. Follow #Bond_age_ hashtag.
Trailer:
Movie: