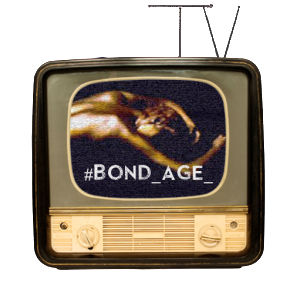 Many moons have passed since we last revisited Remington Steele and Laura Holt and Murph… oh Murph. #SteeleTweet Vol. 4 happened way back in September! My how time evaporates. We ran through a 1966 retrospective and then the holidays and blammo. Here we are in the dystopia known as 2017. I'm hoarding canned goods, bottled water and my Remington Steele DVDs.
Nevermind the wait — this week's episodes are worth the wait. This week we'll be viewing episodes 16 and 17 from Season 1. Try as we might to skip over episodes for the good stuff the more we realize that these early seasons are all good stuff.
"Steele Crazy After All These Years" has long been a fan favorite with Murph returning home to attend his college homecoming… and wouldn't you know it? Someone gets murdered. We go back to Murph's roots, you guys. We get to see the Murph origin story! Well, sort of. One thing is for certain — we get to make fun of Murph for an entire episode. Pay attention for references to The Third Man and The Uninvited.
Episode 17 couldn't be overlooked — especially for fans of classic film. "Steele Among the Living" is a little riff on Laura. When an artist turns up missing, her artwork appreciates notably. Laura Holt thinks this is curious and investigates.
Join us Wednesday, January 11th @ 9pm ET for Remington Steele Vol. 5. Follow #Bond_age_TV. Embeds for the aforementioned episodes will appear right here on thejamesbondsocialmediaproject.com. This week, I'd also like to welcome a brand new #Bond_age_TV host! Pam Fallon Thornley (@fallonthornley) officially joins the #Bond_age_ ranks to share her love of Laura Holt and Remington Steele. She's been instrumental in bringing Steele to #Bond_age_TV, so I thought it was about time I gave her a key to the #Bond_age_ HQ!