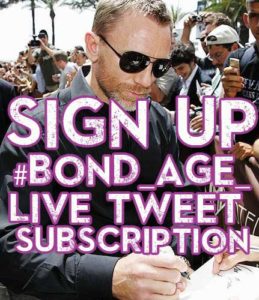 Last evening @CitizenScreen requested a reminder regarding the #Bond_age_ live tweets, which got me thinking… she's not the first to say that she'd join more live tweets if she just had a gentle reminder. I understand that the live tweet announcements get lost in the Twatterverse and that's why I've taken to spamming them. That's not especially efficient, however.
New year, no ideas. I'm starting a #Bond_age_ "subscription service."
If you want to be notified each week about the #Bond_age_ live tweet event, submit your name and your twitter handle. When I send out the weekly notices, I'll tag you so that you'll always see what's going on in the world of #Bond_age_.
[wpforms id="4632″ title="true"]